A spectacular exposé alleging prime minister John Key and his National party colleagues were involved in dirty tricks campaigns has created the most significant political maelstrom in nearly six years in office and blown the government's re-election strategy dramatically off course, writes Toby Manhire
<div class="content__meta-container js-football-meta u-cf</p><br /><br /><br />
<p> ">
Saturday 23 August 2014
At the beginning of the month, the New Zealand National party looked all but unassailable. The centre-right party, led by the enormously popular trader-turned-politician John Key, seemed firmly in control as they approached a September election, helped by an opposition in disarray. If a third term was not yet guaranteed – New Zealand's proportional electoral system makes landslide victories improbable – it was clear it would take some remarkable turn of events to shift the momentum.
What a difference a book makes. Investigative journalist Nicky Hager's "Dirty Politics: How attack politics is poisoning New Zealand's political environment" has blown the National party strategy dramatically off course, propelling the campaign into uncharted territory. Its allegations have dominated news bulletins for the 10 days since its publication, as accusations of dirty tricks, smear campaigns and conspiracy sally in every direction.
Many predicted Hager's book, details of which remained a secret until launch to forestall any injunction, would return to the subject of an earlier work, New Zealand's role in the Five Eyes spying network. But instead of leaks from NSA whistleblower Edward Snowden, Hager had something which, in domestic political terms at least, would prove even more explosive: a cache of correspondence from the computer of Cameron Slater, a vigorous, venomous rightwing blogger better known by his site's title, Whale Oil.
The fallout spreads
The great risk for Key is that his sparkling reputation becomes contaminated by association with Slater's toxic style.
Hager draws on thousands of hacked emails and Facebook private messages, which reveal Slater's links to Jason Ede, then a senior press adviser and so-called "black ops" co-ordinator in the prime minister's office, as well as to senior cabinet minister Judith "Crusher" Collins and others. Taken together, Hager claims in the book, the material exposes "the covert attack machine run by the National party and its allies" and "a new kind of attack politics … rapidly changing the political environment".
The allegations have thoroughly sucked the oxygen out of a National campaign carefully crafted – as its official hashtag, #TeamKey, implies – around a hugely liked leader. As one political editor put it this week: "Nothing short of discovering the cure for cancer will divert the conversation from Dirty Politics."
In an unlikely convergence of old and new media, the acts described in the book have been supported by the drip feed of source documents online, via an anonymous Twitter account, @Whaledump, almost certainly controlled by the same individual who handed the documents to Hager. In a wink to WikiLeaks founder Julian Assange, Whaledump lists as its contact address "Flat 3b, 3 Hans Crescent", site of the Ecuadorean embassy in London.
The National party has scrambled to explain correspondence suggesting Collins, the justice minister and an avowed close friend of Slater, had fed him with information about a public servant so that he could attack him on his blog, which led to death threats in the comments. Key, who earlier this year acknowledged that he regularly spoke with Slater "to see what he's got on his site and mind", this week described Collins's action as "unwise" but refused to ask for her resignation, despite having given her a "last chance" after she was at the centre of political controversy earlier in the year.
The prime minister, facing by far the most sustained political maelstrom in nearly six years in office, has been accused of making contradictory statements about his knowledge of the process by which Slater had been handed material from the domestic spy agency, SIS, that would embarrass the Labour leader in the leadup to the 2011 election. Slater's Official Information Act request, which Hager says was encouraged by one of the PM's staff, had been almost immediately fulfilled, while similar requests from other media were denied. It was, Slater boasted in a message, "expedited, in the public interest. It is devastating for [Labour leader Phil] Goff, I am told".
Key strongly rejects claims he was briefed on the matter and it is now the subject of an inquiry by the spy watchdog, the inspector general of intelligence and security.
Smear campaigns and conspiracy theories
Ede, meanwhile, is shown in correspondence reproduced by Hager to have allegedly colluded in probing a Labour party website that had been left insecure. Other published exchanges allegedly show Slater and his associate, political consultant Simon Lusk, discussing smear campaigns to help a client win a National candidate selection, the blackmail of a sitting MP (it never happened, the MP has since insisted) and the description of those forced from their homes after the Christchurch earthquake as "scum". The book also alleges Slater routinely posted associates' contributions under his own name and took thousands of dollars from tobacco companies, a claim he denies.
As far as possible, senior National figures have refused to engage with the detail in the book, dismissing it as an exercise in "joining dots that shouldn't be joined" and based on stolen material. Even before the subject of the book was revealed, Hager was characterised by Key as a "screaming leftwing conspiracy theorist". On Thursday, having spent most of the day fending off allegations relating to the SIS issue, Key told media: "I think there's a real risk that a hacker, and people with a leftwing agenda, are trying to take an election off New Zealanders."
While Ede, Lusk and Collins have avoided talking to media, Slater, the son of a former National party president, has gone on the offensive. Talk of a "vast conspiracy" between him and the PM's office with Ede as "ringmaster" was nonsense, he told the New Zealand Herald. His critics were guilty of "hypocrisy and sanctimony". Ede, he added, had proved himself "squeamish and gutless" by going to ground, adding: "I play politics like Fijians play rugby. My role is smashing your face into the ground. Politics is a nasty despicable game and it's played by nasty despicable people. Where's the surprise in this?"
Kim Dotcom
Slater alleges that the hack of his computer was orchestrated by Kim Dotcom, the New Zealand-based internet entrepreneur who is being sought for extradition by the US to face copyright and money laundering charges. Slater has run scores of posts attacking the German, increasing in frequency and ferocity since Dotcom's founding of the Internet party. The party, which Dotcom has bankrolled to the tune of $3m, has formed an alliance with the leftwing Mana Movement, giving it an easier route to parliament under the rules of the electoral system.
Dotcom denies any involvement with the hack or the book. Hager, meanwhile, says he would have "run a mile" had Dotcom played any role in accessing the material.
"When a source is anonymous, like this person is, it's possible to imagine all sorts of creepy things about them," says Hager. "But it is an intelligent, thoughtful person, I'm pleased to say – a non-partisan person who I'm very comfortable working with."
Hager says the source, whom he met through "contacts in the IT and geek world", had been motivated by disgust at Slater's blogging, in particular a post that described the innocent victim of a car crash as a "feral" who had "done the world a favour" by dying.
The hacker, who swiped only a small fraction of Slater's private correspondence before the intrusion was detected, originally intended to publish the material online "in all directions to everybody". Hager persuaded him to provide "all the political information that you've found … I was saying: rather than just dumping this out in the world, like hackers tend to do, could I have it, and try to use it for something really worthwhile?"
The scale of the response has surprised Hager. "It has obviously hit a current of feeling … There's something about the way politics has been, or the nastiness of some of the politics." While pundits have not agreed on its significance – "The fact is most New Zealanders don't even know about this book," said one talkback radio host, albeit on the fifth straight day discussing it – the coverage has been vast.
Hager says: "I think it's kind of resonated because it seems there are a lot of journalists who felt they were being manipulated or played, or shut out of information by the political management that was being run by the government."
Hager denies suggestions the book was designed as an election bombshell. He was provided the hacked material in March, he says, and while he was determined that it should be published before the election from a public interest point of view, "it was actually just the practicalities of how fast I could get it out".
As to the claims of a leftwing conspiracy, Hager says he's seen and heard it all before. "Whenever I do work which confronts powerful people they tend to attack the messenger rather than debate the issues," he says. "I've got a long record of work which criticises the left and the right … When I once before had a book before an election [Seeds of Distrust], 12 years ago, the National party called it a fine work of investigative journalism, and the Labour party was mad at me, and now when I write about the National party before an election, those roles reverse … I know there are going to be personal insults. I know there are going to be evasions. And so accepting all that I've been really pleased at the uptake of real stuff, and the real discussion, the real response it's got."
Stonewalling and the poll reaction
The accusations in Dirty Politics mix the old and the new, says Colin James, a commentator who has covered New Zealand politics for four decades. "Attacking opponents, including below the belt, is part of politics. The means are different now, including the means to be found out."
The Nationals' stonewalling response has looked at times clumsy, says James. "The story could have been dampened by applying the three Fs of public relations: the second two Fs are 'front up' and 'fess up'. Instead Key flailed all round the paddock and was forced to retreat centimetre by centimetre." The controversy leaves a picture of "loose governance of his office … and of his cabinet" as well as "bad judgment in talking to Whale Oil", he says. "I listened in disbelief when he first said he talked to him as a matter of course at a post-cabinet press conference earlier this year or late last year."
In the first poll conducted after the book's release, there is little sign of any collapse in support for the Nationals. The NZ Herald/Digipoll shows the party losing five points but they still tally 50%, roughly where they were a few months earlier. The likely opposition coalition partners, Labour and the Greens, remain some distance behind, at 25% and 14%. Key's preferred PM rating has fallen by 8.5 percentage points, but with his support still at 64.8% it is hardly the stuff of crisis.
What is unknown is whether this decline will continue; whether, crucially, Key will suffer reputational damage or whether the dirty politics story will, in the prime minister's words, "burn out". As it stands the Nationals have lost all control of the shape of the campaign. But as National strategists prepare for their formal campaign launch in Auckland on Sunday they may be relieved to note Whaledump's tweet saying the leak at lunchtime on Friday was the "last political post".
And there's one more date in the calendar that will be circled. On 15 September, five days before the end of an already extraordinary election campaign, Kim Dotcom is hosting an evening at the Auckland Town Hall with Glenn Greenwald, the journalist who has become synonymous with Edward Snowden's NSA leaks, as the guest of honour.
The flamboyant mogul turned political incendiary has boasted that the event, announced long before the Hager book was published, will include accusations that will embarrass the prime minister and which could change the path of the election. He is calling it "The Moment of Truth".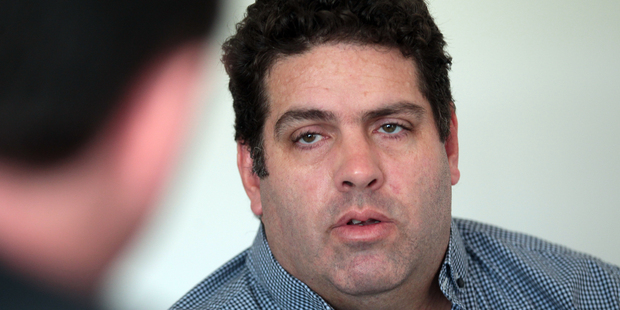 Cameron Slater was a contact of mine – Nicky Hager made this clear in Dirty Politics.
What also became clear is how politics is little more than a game to Slater. He says: "I play politics like Fijians play rugby. My role is smashing your face into the ground."
The media are just players in the game, and bit players at that.
Looking back, Slater kept journalists like he would have kept hunting dogs – hungry, leashed and fed with morsels until they are ready to be unleashed after whatever game he was hunting.
To Slater, it all part of the game of Dirty Politics. About the time I felt I was being gamed, I decided to have nothing to do with the blogger.
This is how it happened.
I remember Cameron Slater seething with frustration that John Key wouldn't talk to him.
He couldn't understand how Key was shielded, not because he was Prime Minister but because Slater was the blogger Whale Oil.
That was early 2012. In Dirty Politics, it is alleged that during the previous election, Slater was working with political adviser Simon Lusk to swing a National Party candidate selection to pick his man.
That was the Rodney electorate and his man was Mark Mitchell, the former dog handler turned private guard who enjoyed enthusiastic backing from Slater through his Whale Oil blog which highlighted only the negative aspects of his opponents.
Lusk and Slater wanted to step up their 'Candidates' College', at which they charged political aspirants for lessons on how to win in politics. They had a vision for the future. In February 2012, a document written by Simon Lusk charted out a plan to entrench the right-of-centre 'Fiscal Conservatives' for years to come. It involved "taking over the public service" and the "blackballing of current National MPs".
A month later, National Party board minutes show they saw the danger coming.
The minutes record "a disturbing conversation … with Simon Lusk that highlighted his motivations and a very negative agenda for the party". His agenda posed a "serious risk to the party" and "light needs to be shed on these issues with key influencers within the party".
The Lusk and Slater duo was clearly seen as a danger – they aimed to hold another Candidates' College in April in the South Island.
But Slater couldn't get cut-through to see the Prime Minister.
It would all change in the next two years, and the way it changed reflected the willingness of those who could have stopped Slater to enable his behaviour instead.
At some point after April 2012, Key went from blocking Slater to talking and texting with the blogger, and posing for photographs at his side.
It was also about this time I stopped dealing with Slater.
Before then, as made clear in Nicky Hager's book, I was speaking to Slater as a contact and source.
We spoke regularly from 2010 until early to mid-2012. Generally, but not always, I would quote him as a source if I wrote something from information he gave me. I did this when he came to me with the Labour Party website security failure. I had no idea anybody from the National Party was meddling in the background – Slater presented it as his discovery and his alone.
Information has power. Those with the greatest access to information are those in power. Slater's links inside National meant he had access to good information.
But as 2012 got underway, I began to wonder who was manipulating Slater and whether I was in turn being made to do another's bidding.
It caused a feeling of great unease.
It's not unusual for journalists to deal with people who have causes to push, or axes to grind.
But when you can't see who, ultimately, is pushing the cause or grinding the axe, you risk failing yourself and your readership.
I had been in the tent. It was a place where stories and story tips came easily – too easily.
I stepped back and found myself outside the tent.
That, I think, is why Hager wrote: "They later fell out when Fisher wrote stories Slater did not like."
If you're in Slater's tent, it's warm and cosy. There is information which only those well connected would know. Almost exclusively, the tips are for stories are good for National and bad for anyone in its way.
If you're outside the tent, which is where I fetched up, it is cold and hard. This is what journalism should be. You should work for your readers, and work hard.
But when I started writing stories on issues which went against Slater's interests, I became someone he wanted to "smash". At that point, I was away from the tent and out in the wilderness.
He launched a personal assault with what I believed were threats of violence and created an atmosphere in which I was personally and professionally denigrated. Those who post comments on his website made awful slurs. It is as horrible an online environment as you will find anywhere.
Among the slurs were claims my behaviour showed I was suffering withdrawal symptoms associated with alcohol and drug addiction. On one occasion, when I rang a minister's spouse for comment on an issue he was involved in, he ranted at me that I was "a drug addict" and would not talk to me. The only place such an idea had been floated was on Slater's Twitter feed.
In almost two years, he has published about 120 posts in which I am featured. Some are extremely unpleasant. I am called a "shill" in the context of being a corrupt reporter.
Slater has invented nicknames for me. He called me "Gurnard", then sent me pictures of dead "Gurnard". He called me "Tainted" in relation to my coverage of the Kim Dotcom affair.
I've been accused of receiving stolen goods, had it suggested my performance at work was under question and had described sexual acts it is suggested might be inflicted upon me. I learned from reading posts about me that there is material on Whaleoil which is untrue, and much which so skewed it makes it difficult to discern what lies behind matters stated baldly as fact.
It is my opinon that Slater has cultivated on his blog such a nasty environment there can be no genuine benefit in dealing with him as a source.
I still interview Slater. When I do, he is courteous and gracious, giving time for questions and explaining his position in full. When I spoke to him a few days ago, he referred to me as an "ethical" journalist, and someone who was a "generous person".
I said to Slater: "You've called me ethical and generous in a conversation."
Slater: "Are you going to quote me? Are you going to quote me on that?"
I replied: "I might confuse your readers if I did that. They wouldn't believe I was actually speaking to you."
Slater said: "But remember there's a persona that's on a website and there's the persona of the person behind the website and they're two completely different things."
After two years of vicious abuse, Slater would have it that he wasn't really attacking me.
Instead, it was the mask he put on when he sat down at his keyboard.
He emailed after a story the other day, saying: "Time for all your emails to come out Fish".
It was my belief it was an attempt to dissuade me from reporting. When that was reported, he blogged: "Remember I still have my emails. Not sure David 'Tainted' Fisher is going to like those making their way public. Because the very thing he complains of in his stories he has participated in."
And, for a while, I did.
But once that feeling of unease came, I realised there would never be a story from Slater which was worth the cost.
By Tim Lambourne
The controversial blogger who repeatedly broke court orders and published suppressed names has been forced to sell his home.
Cameron Slater's wife has revealed its mental illness that has fuelled his erratic behaviour online.
For the last six years Juana has been battling to save her home and her marriage.
Her husband, WhaleOil blogger Cameron Slater, was diagnosed with depression in 2004 and has been using the internet on the advice of a psychologist as a tool to vent his anger.
"His psychologist said that's just the thing, it's an outlet and it's a safe outlet," she says.
Unfortunately it wasn't safe enough – Slater has been charged for repeatedly breaking suppression orders and outing people involved in high profile criminal cases.
"It was anger, he just wanted to fight, but of course there was no one to fight with so he instead takes on causes."
Now his fight is much closer to home.
The insurance company with whom the couple have income protection cover has stopped paying; now they're living on a sickness benefit and have had to sell their East Auckland house and move into a rental.
Juana is planning to find work as soon as possible to support her family.
Meanwhile, Slater will continue to blog and he'll go to trial for breaching name suppression orders in august.
In which our intrepid hero decides freedom of speech and honest decency require – require, no less – him to tell the world the identity of a 13-year old alleged victim of sexual assault.
It's hard to know what to do about Cameron Slater (aka "Whaleoil"). If you ignore him, don't you simply let him get away with acting like a complete and utter tool? But if you pay attention to his actions, don't you help feed the psuedo-messianic delusions that drive them? So here's an attempt at a middle road: one final posting on his "No More Name Suppression!" jihad, but without any links to his blogsite. If you want to see first hand what he's been up to, visit Google. Beyond this, I'll let the police decide how much, and what form of, attention Mr Slater should get.
A quick recap. Mr Slater doesn't like name suppression being given by the courts to those accused of crimes. Fair enough – there's a number of people uncomfortable with the extent and consistency of this practice, which is why the Law Commission has issued a lengthy and considered report calling for a range of legislative changes in the area.
However, Mr Slater isn't prepared to allow the process of legislative reform take its course. You see, he already knows what needs done, and knows that he is just the person to bring about these needed changes. So he's started "outing" the names of individuals where these have been suppressed by the courts, on the basis that people want to know them and so he'll tell them. And anyway, why should criminal scum get to hide from the righteous wrath of the mobilised mob?
How very noble. Unfortunately, in two of the three cases Mr Slater has chosen, the name suppression orders were handed out not to save the accused from any embarrasment, but rather to protect the identity of victims of alleged sexual offending. So what Mr Slater has done is decide that he knows better than anyone else that the world's "right to know" trumps the privacy of these victims.  And when I say "anyone else", I mean the elected Parliament of New Zealand, which decided such protective orders for victims of sexual offending should be all but mandatory. As well as the victims themselves, who can always ask the judge to lift the order if they want the world to know the accused's identity (and thus theirs). As well as the judge who gets to hear considered argument from both sides, and make an informed decision on whether to make an order after taking the full range of factors into account.
But why should the opinions or beliefs of such minnows be of interest to a mighty Whale? Unfortunately, this then raises a rather tricky question: just who is this Mr Slater to be making judgment calls on which names to out and which not to? I don't want to get overly personal here, but this is how one of his friends, Cathy Odgers of the "Cactus Kate" blog, describes Mr Slater:
He is mental. I mean this in a loving caring way to his friends, but to his foe he shows as much hatred as he does love for his friends. Whaleoil loves opposition, he loves conflict and more importantly will never back down. … His actions are consistent with a mix of depression, medication and frontal lobe disfunction. There is no point in reasoning with him for after his depression and the medication he is on, there is limited reasoning.
David Farrar of Kiwiblog fully concurs with this description. And note again that these are his friends speaking here.
Now, I get what they are saying. Mental illness often causes individuals to act in ways that are poorly reasoned and ill advisable, and that helps to explain why Mr Slater has chosen the path he has. But desn't this explanation for his actions raise serious problems with their desirability? If Mr Slater is "mental", to use Ms Odger's chosen term, and possesses only limited reasoning skills, then do we really want him taking it upon himself to second guess the entire legal process with regard to whose name will remain suppressed and whose will not? Is that a basis we can found our justice system on – the rules will be those that the person most prepared to push the envelope decides ought to be in place, even if that envelope pushing is the result of seriously disordered thinking?
I think not. So, with all due respect to Mr Slater and his enablers in the blogosphere, I fervently hope the police and courts come down on his actions like a ton of bricks. And there I'll leave the matter to rest.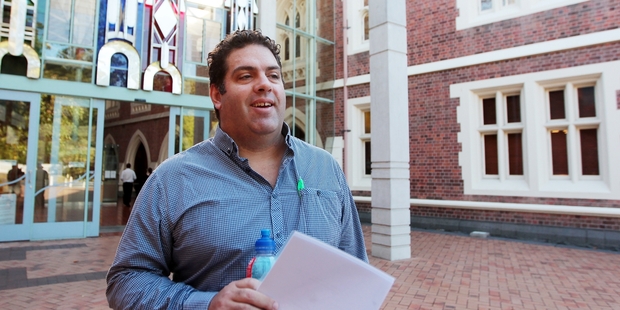 Cameron Slater and his Whale Oil Beef Hooked website have some passionate advocates. But Slater presents some risks as part of a public relations strategy.
For instance, DB Breweries was this week trying to distance itself from Slater, after revelations in the Nicky Hager book Dirty Politics, while the chief executive of the Food and Grocery Council, Katherine Rich, was also keeping her head down.
Both are alleged to have used Whale Oil to criticise opponents, though both have denied asking their PR representative to have items placed on the site.
But the Israeli Embassy in Wellington is relaxed about picking Slater – a climate change denier – to cover the World Science Conference in Israel. Despite the bad publicity, it believes Slater is "fair-minded" and "spiritual". [You couldn't make this shit up!]
The embassy picked Slater to be part of a media delegation to the conference a long time ago. He had a reputation for controversy even before the release of Dirty Politics, a book based on his leaked emails and revealing deep cynicism and some nasty communications between Slater and some people in politics and PR.
The embassy's cultural and public affairs director, Patricia Deen, stands by its choice, and said Slater's fairness showed in his coverage from Israel so far. Israel has been part-funding Slater and other writers to the conference, which was scheduled to run from August 17 to 21. While it never went ahead because of the war on Gaza, Slater has stayed on to write about Israel.
The Israeli Government paid part of his costs, and he paid extra to extend his visit to cultural places, said Deen. "Cameron is a very spiritual person," she said.
Like other countries, Israel pays for journalists to visit so they can get media to see their side of the story. NZ does much the same thing in helping journalists visit our "100 per cent pure" nation. In Israel's case, though, such delegations are often designed to counter what it believes is an anti-Israel bias on the part of international media.
But support for Israel's position on the Whale Oil blog might hurt as much as it helps.
It's interesting Israel invited Slater – a global warming sceptic – to an international science conference. Peter Griffin is manager of the Science Media Centre, operated by the Royal Society of New Zealand. He said Slater had made several attacks against scientists and promoted global warming sceptics. Griffin said this week that Dirty Politics had provided a window into the tactics of right-wing bloggers, lobbyists and political strategists intent on discrediting scientists who present evidence that conflicts with their political and commercial interests.
BLURRED LINES
The Hager book alleges ties between Slater and the public relations consultant Carrick Graham and his clients, which include DB and the Food and Grocery Council. It also alleges a relationship with the tobacco industry, claiming that it paid Slater a $6500 monthly retainer.
Hager alleges that Graham pays Slater to run blog posts criticising people who favour efforts to tighten up alcohol and tobacco regulation.
Contacted in Israel yesterday, Slater said "I have never received money for coverage". And, he said, "I am not paid a retainer by anyone." Such a claim was "highly defamatory", he said.
Slater has rejected suggestions he runs PR content untouched, saying he always does something with the copy. But given the lack of transparency around his blog, it has been increasingly difficult to clarify whether comment is advertising or editorial, and whether criticism of others is genuine opinion or paid comment, potentially from a commercial competitor. This column has in the past raised the lack of scrutiny and transparency about paid content in blogs.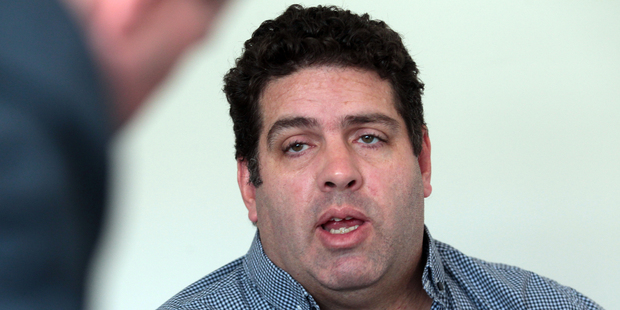 Whale Oil blogger Cameron Slater is being investigated by police for an alleged suppression breach that could jeopardise a high-profile extradition case.
The case is subject to a sweeping suppression order imposed last year by a judge to "ensure the integrity of trial".
Justice Minister Judith Collins has the final say on whether extradition should be granted.
When Slater's online posting, which appears to breach the court order, was raised with Ms Collins' office, she refused to comment.
"The granting and monitoring of suppression orders is a matter for the courts. It would be inappropriate for the minister to comment," a spokeswoman for her office said.
When the issue was raised with Courts Minister Chester Borrows, he took a similar view.
"I understand that you received a response on this matter from the office of Judith Collins. Minister Borrows supports those remarks and has nothing further to add," a spokesman said.
The alleged breach was brought to the attention of the crown prosecutor acting as counsel for the country seeking extradition. He forwarded the issue straight to police.
Yesterday Detective Inspector Tom Fitzgerald, Canterbury district investigations manager, confirmed that Whale Oil's apparent breach was being investigated.
"It's gone to one of my DIs [detective inspectors] who will be looking at it," he said.
The Weekend Herald has elected not to publish details of the case that Whale Oil referred to in the blog.
The blog ran a photo of the alleged offender despite the suppression order that granted image protection to the offender, who is awaiting news on whether he or she will be extradited to face charges in another country.
The blog also included other information which the media had been banned from publishing.
A later blog on Whale Oil also appears contrary to the court order.
Slater last night said he was unaware of the suppression order.
"[We] have not been approached by police about this, but were approached by police in Auckland about another one, which we immediately took down. I will be taking these ones down now that I am aware.
"This continues to highlight the problems with suppression orders, and the rather odious way with which criminals use them to hide from their disgusting crimes."
If prosecuted, Slater could face a fine of $25,000 or six months in prison.
The Privacy Commission has recently claimed Slater breached the privacy of businessman Matt Blomfield after publishing dozens of posts on Whale Oil based on a computer hard drive he obtained.
It passed the case to the office of the Director of Human Rights Proceedings, which is now prosecuting him over five days in October.
Mr Blomfield is also suing Slater for defamation with a full hearing expected next year.
A High Court decision is pending in the case on whether Slater is a journalist – a status he is seeking in the belief it will allow him to withhold information about his sources.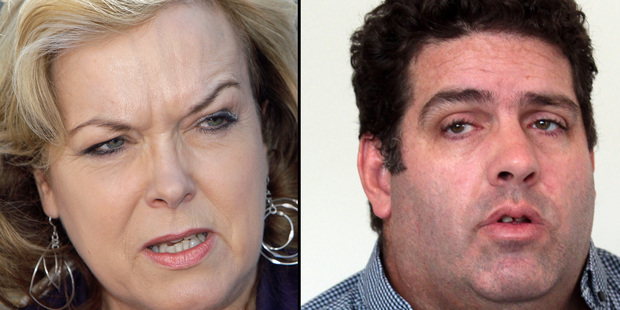 Whale Oil blogger Cameron Slater got a response to an Official Information Act request from Justice Minister Judith Collins in just 37 minutes.
He received another OIA response with just a five-hour turnaround by Ms Collins' office – including being given correspondence which had come in just that day.
Documents released to the Herald through the act show Slater made three requests in relation to Canadian jurist Ian Binnie's report, which recommended David Bain be paid compensation after being found not guilty of killing his family in Dunedin.
According to the documents, Slater made two requests as editor of the now-defunct Truth in December 2012 and a third in February 2013.
The first came on the same day as a Herald on Sunday verbal request for copies of information provided to campaigner Joe Karam, including a copy of a letter sent to Mr Karam which Mr Bain's first lawyer, Michael Guest, had written to Mrs Collins.
The same information was provided to Slater, who asked at 1.27pm for almost identical information with a slightly different phrasing.
Collins press secretary Rachael Bowie sent him the information at 6.11pm, adding: "Also attached is an email from Michael Guest received by this office today." The email held a detailed account attacking Mr Bain's position, which was featured in the next edition of Truth.
On February 12, a Monday, Slater made another OIA request. It was for the same material the National Business Review had been provided the Friday before. Slater's OIA request was sent at 9.53am to Ms Bowie who responded 37 minutes later.
Slater's third request was filed in December and responded to in March with a cluster of others which sought broad amounts of information.
Ms Collins' office has told the Weekend Herald it has always complied with the legal guidelines laid out in the act, which require a response inside a maximum 20 working days.
Labour's justice spokesman, Andrew Little, said he had never had an OIA response back from Ms Collins' office in under 20 working days.
Labour Party MP Grant Robertson told TV3's The Nation it was "pretty much unheard" to receive an OIA response so quickly.
"It's a good time for a pizza delivery – 37 minutes – but you'd never expect that from an OIA."
Ms Collins' swift response to the request looked like "favourable treatment", Mr Robertson said.
"It fits into a pattern of behaviour that we've seen from Judith Collins with relation to Cameron Slater. Friday night having a request processed, it just doesn't happen."
It looked like Slater knew what to ask for, he said.
Green Party co-leader Russel Norman told The Nation the government had established a system where there was a "friendly face" to the public, but "behind the scenes they're working directly with Slater".
"And so he's the dark operations and does all the really nasty attack stuff, but he's doing it hand in glove with John Key, Judith Collins and all the rest of them.
"It's the system that they established that keeps them looking nice and clean and friendly while at the same running these attack campaigns against anyone who gets in their way."
The Chief Ombudsman will launch an investigation into the way the Official Information Act is being used after the election and will include a probe into ministerial offices as part of the inquiry.
The probe comes in the wake of Nicky Hager's book Dirty Politics and questions over OIA information provided to Whaleoil blogger Cameron Slater.
Chief Ombudsman Dame Beverley Wakem said issues which would be examined included government departments having to seek "sign off" from their ministers before releasing information when there was no reason to do so.
She said there was "excessive reference upwards for approval" to release information when there was no good reason for doing so.
The Act was intended to increase Government and ministers' accountability to the public while allowing citizens to have a greater input into decision-making. It was passed in 1982, came into force two years later and has now been operating for 30 years.
Dame Beverley, who did not want to comment on Hager's book, said issues before the Office of the Ombudsman raised concerns about the capacity to handle requests and policies used by departments, rather than any alleged rorting of the system. "I haven't observed anything sinister.
"I have observed unnecessary steps and referrals upwards. I have heard of at least five layers of approval before something can be released. That's absurd."
She said the unnecessary upwards delays included referrals to ministers for approval to release information. There were also offices which had "delayed things beyond what is reasonable" while others did "incredibly well".
"There's actually fundamentally nothing wrong with the Act. What is wrong is the execution.
"It is people's understanding of the act and understanding of how to use it." She said many public service staff with expertise in the Act had been "rinsed" out of the system. She said there was an impact on staff with experience "if there's not very many of them left doing this" and they received a heavy load of requests each day.
Dame Beverley — a former Radio NZ chief executive — pointed to the public service sinking lid, saying "there's only so much blood out of a stone".
She said the office, which had previously told select committees it was cash-strapped, was "approaching having enough money".
In the past two years, she said extra resources had gone into training for public service staff with positive effect.
Dame Beverley, who is president of the International Ombudsman Institute, said she had been tempted to publish a league table of best-to-worst agencies, as other bodies did abroad.
"We haven't resorted to that in New Zealand but each day that goes by it becomes more tempting." She said the framework of the inquiry had been completed and it would be launched in the next few months.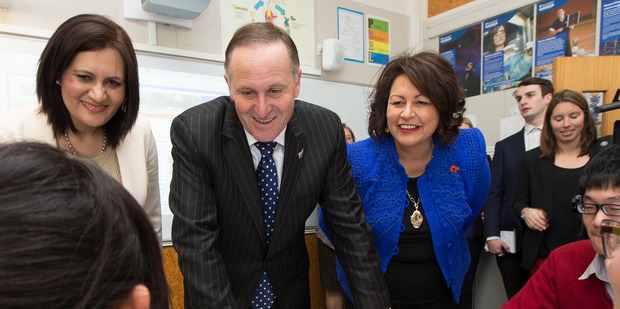 Prime Minister John Key says nothing has changed after a video emerged from 2011 appearing to contradict his claim he was never told by the SIS it intended to release politically sensitive secret documents to Whale Oil blogger Cameron Slater.
Nicky Hager's book Dirty Politics claims Mr Key's office or the SIS helped Slater obtain the documents, which he then used to embarrass former Labour leader Phil Goff.
In the video, Mr Key referred to the briefing from Dr Tucker while being questioned about the matter during his post Cabinet press conference on August 8, 2011, in the days following the documents' release.
Speaking to media outside Mt Roskill Grammar school this afternoon, Mr Key denied the video was a contradiction.
Read more:
• POLL HIT: Greens up in polls as Key's rating drops
• KEY IN THE HOT SEAT: 'Hikois from hell' if seats dropped
• HERALD VIEW: Dunne should make super a bottom line
• TOBY MANHIRE: Dirty politics – a helpful glossary
• FIGHTBACK: Key hits out at 'stealing of election'
"No, not at all. In the context of that video, I meant 'my office'. Frankly the demarcation wasn't significant back then.
"Yesterday when I checked, I did a very, very thorough check. I checked with the director at the time. He fully supported the position the ombudsman was independently checked with. She fully supported the position and I know my position is absolutely correct.
"There'll be an inquiry, people will look at all that."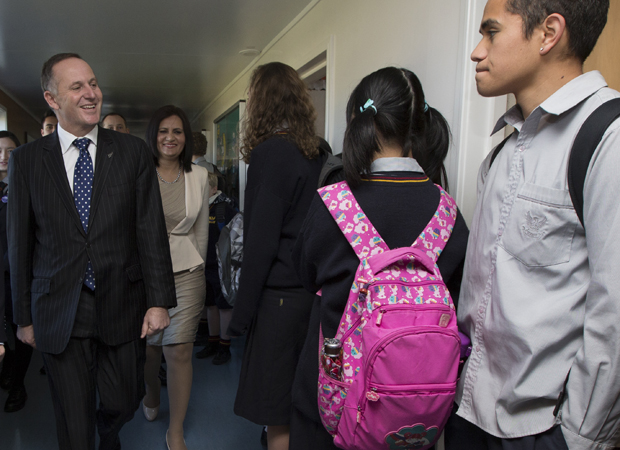 Prime Minister John Key during his visit to Mt Roskill Grammar School. Photo / Brett Phibbs
Mr Key said he "probably should have" clarified that it was his office which was briefed over the OIA release, not him. "But, to be honest, that wasn't the big issue at the time."
It was "definitely not the case" that he was briefed about the release while on holiday either, he said. "I'd be more than happy for my phone records to be [seen]."
"There's no dispute that somebody in my office was briefed. I don't think anybody disputed that and, in fact, ultimately the inquiry's undertaken [and] those people will be spoken to.
"The reason I don't name them is because these are people who handle national security issues, and I simply don't want to put their name in the public domain."
Watch: John Key: 'I was in Hawaii'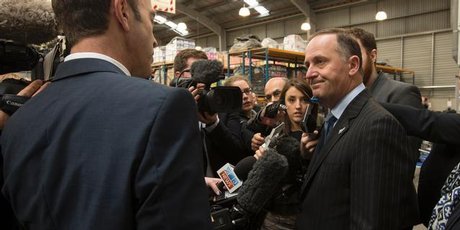 Mr Key said he was "100 per cent confident" a member of his office hadn't leaked the information to Slater, and he said he was prepared to go under oath on the issue.
The emergence of the 2011 video came after Mr Key's version of events – that he was never directly briefed by Dr Tucker on Slater's OIA request – was backed up yesterday by Dr Tucker and Ombudsman Dame Beverley Wakem.
Inspector General of Intelligence and Security Cheryl Gwyn is investigating the issue after deeming there was "sufficient public interest" to justify her holding her own inquiry to get to the bottom of what happened.
The findings are not expected to be released before the election.
By Adam Bennett, Matthew Backhouse, Simon Collins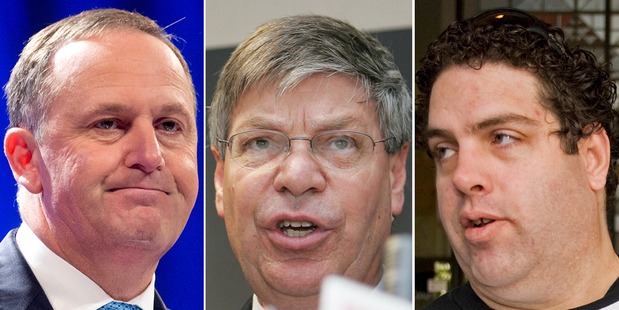 Yet another document has emerged casting doubt on Prime Minister John Key and former SIS Director Warren Tucker's version of events around how secret documents were declassified and fast-tracked to blogger Cameron Slater, who used them to discredit former Labour Leader Phil Goff.
Dr Tucker this morning took the unusual step – particularly given the matter is now under investigation by intelligence watchdog Cheryl Gwyn – of releasing a statement backing Mr Key's version of events that he informed the Prime Minister's office, and not Mr Key personally, about the release of the documents.
Dr Tucker's statement came after the release of a letter to NewstalkZB from him that said he personally briefed the Prime Minister ahead of the release of SIS documents to Slater – a contradiction to assurances Mr Key gave yesterday.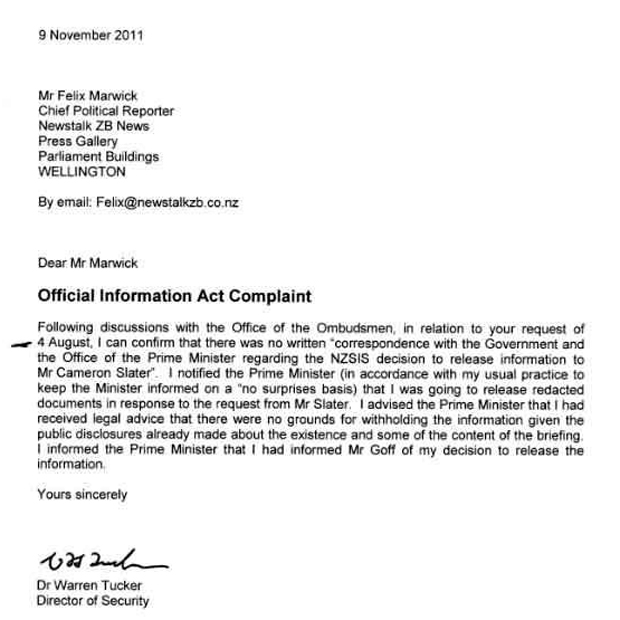 The Official Information Act complaint response to Newstalk ZB Felix Marwick.
Mr Key has sought to keep distance between himself and the release of the documents which investigative author Nicky Hager claims in his book Dirty Politicswas part of sustained dirty tricks campaign run in co-operation between Slater and Mr Key's office.
But in another letter to NewstalkZB chief political reporter Felix Marwick, Chief Ombudsman Dame Beverley Wakem refers to a discussion she had with Dr Tucker in which the SIS director told her "that he is prepared to release a statement regarding his discussion with the Prime Minister".
The letter goes on to say: "Ms Wakem is of the view that there is good reason to withhold Dr Tucker's full recollection of his discussion with the Prime Minister".
Inspector-General of Intelligence and Security Ms Gwyn announced yesterday she would investigate the declassification and release of the documents to Slater.
Read more:
• Claire Trevett: No tabloid tactics – except in politics
• Judith Collins on her last chance – Key
• English: Alleged revenge attack 'not my style'
• Why the Whaledump hacker came forward
In 2011, Mr Goff, then the Labour leader, had been involved in a public spat with Mr Key over whether he had been briefed by Dr Tucker about suspected Israeli agents in Christchurch at the time of the earthquakes.
Mr Key said that while his office was told the information was being sent to Slater, he personally wasn't told.
"What does happen is my office gets told if an OIA [Official Information Act response] is going out. More often than not they don't tell me."
But the letter from Dr Tucker appears to show Mr Key was informed of the information's release.
"I notified the Prime Minister … that I was going to release redacted documents in response to the request from Mr Slater," Dr Tucker wrote.
"I advised the Prime Minister that I had received legal advice that there were no grounds for withholding the information given the public disclosures already made about the existence and some of the content of the briefing .
"I informed the Prime Minister that I had informed Mr Goff of my decision to release the information."
Listen: Felix Marwick talks conflicting claims on OIA release
Mr Key this morning stood by his statement yesterday that he was not personally informed the information would be released to Slater.
"The standard process for the NZSIS is to inform the Prime Minister's office of any significant OIAs [Official Information Act requests] which may result in media coverage being released on a 'no surprises' basis," a spokeswoman for Mr Key said.
"They consider this to be informing the Prime Minister. The Prime Minister stands by his statement yesterday that his office knew about the release of the OIA, but he didn't.
"When the NZSIS informed the Prime Minister's office about this particular OIA, no view was offered as to whether the information should be released, or to whom, or when."
Speaking in Dunedin today, Labour leader David Cunliffe said he did not believe Mr Key was not briefed about the release of the documents.
Asked about Dr Tucker's clarification this morning, Mr Cunliffe said he did not think that cleared Mr Key.
"I think it defies belief that the Prime Minister wasn't personally informed."
Mr Cunliffe said the timing, during the 2011 election campaign, made it even more unlikely the Prime Minister would not be told about a matter involving the Leader of the Opposition.
Mr Key's credibility was "in tatters", and he had serious questions to answer, Mr Cunliffe said.
Mr Cunliffe said he had confidence in the investigation announced yesterday by Ms Gwyn.
Mr Goff told APNZ the statements from Mr Key and Dr Tucker this morning were "very convenient".
"Warren Tucker's letter actually indicates that he told the Prime Minister. Are they trying to claim that on this manner – and he he says the tradition is to run it past the Prime Minster – the Prime Minister wasn't aware of that?
"It's frankly incredible. It's unbelievable."
Mr Goff said he had been in government long enough to know how the process worked.
"The Prime Minister would have been advised in the Clark-Labour government – anything that happened in the SIS of that nature, in a disclosure of that nature, would be known to the Prime Minister.
"I can't believe that the rules were any different under John Key. He would have been advised. This was part of a political strategy on his part, he would have been up to his eyebrows in it.
"Frankly it's not believable that he wasn't aware of it. He was aware, he had been informed, and Warren Tucker clearly believed in the OIA request that that had gone to him directly."
Mr Goff said that, knowing how politicised the issue had become, Dr Tucker's response was "odd".
"Traditionally the SIS would not have wanted to become embroiled in a political row. I've been briefed by the SIS over the nine years that I was in government, and nothing like this ever occurred, and you wouldn't dream as a minister receiving information from the SIS to politicise their role or the information that you got.
"This is extraordinary behaviour, and I think it's unfortunate that Dr Tucker allowed himself to be used in the way that he was."
Mr Goff said Hager's book revealed either the SIS or Mr John Key's office had leaked information to Slater. He did not believe it had been the SIS.
Mr Goff said Ms Gwyn's investigation might find a smoking gun.
"It won't have the fingerprints on it. But everybody will know exactly what happened."
Mr Goff said if Mr Key had misused his position as minister in charge of the SIS, then "of course he should resign".
Ms Gwyn said her inquiry would cover whether the SIS had released the documents "for political purposes", whether they had been properly declassified to allow their release, and whether Slater's request was treated more favourably than similar requests from mainstream media.
Intelligence analyst Paul Buchanan told Radio New Zealand it was unlikely Ms Gwyn's investigation would be completed before the election next month.
But if she found that Dr Tucker had acted contrary to statute, there would be repercussions in the future.
" … there will not be repercussions on Dr Tucker because he's retired, and that gives the government some wriggle room because if it turns out something untoward happened they can pin the entire blame on him without real consequence."
If Dr Tucker "played politics" in granting and fast tracking Slater's OIA request, that would be a "heavy blow" against the integrity of the SIS, Dr Buchanan said.
"If that is in fact the case, then it's up to the current [SIS] director Rebecca Kitteridge…to, if not clean house, at least undertake the reforms to re-establish the SIS as an apolitical intelligence agency."
In order to find something wrong, Ms Gwyn would have to find communications between Slater, Mr Key's office and Dr Tucker, or someone else in the SIS, Dr Buchanan said.
"If she can find a smoking gun that links the blogger to Warren Tucker, outside of the OIA request, then serious questions are going to be asked of this Government."
Ms Gwyn's inquiry comes as the individual claiming to have hacked Slater's computer and obtained the emails on which Hager's book is based released more material.
They show Slater on August 2, 2011, discussing the material with his friend National Party insider Aaron Bhatnagar where he says he has been told he will get the material quickly and that it is "devastating" for Mr Goff.
An SIS spokesman told the Herald the service had not communicated with Slater about the material other than when it sent it to him. However, the SIS had briefed the Prime Minister's office about it on July 27 under the "no surprises" policy.
"Neither the PM nor his office expressed a view as to whether the information should be released, or to whom, or when," the spokesman said.
Dr Tucker said at the time the SIS "would not normally release such information" but "in this case, however, the existence and some of the content of such briefings have already been made public".
Ms Gwyn's inquiry will consider whether:
• The NZSIS acted properly and within the law (including its statutory obligation of political neutrality) when it considered and responded to an Official Information Act request from Slater in July and August 2011;
• The documents released to Slater were properly declassified; and
• Other requests for similar information were treated in a manner consistent with the treatment of Slater's request.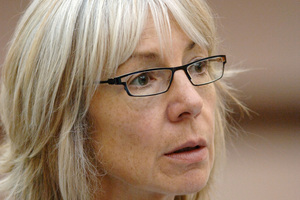 The watchdog has barked – at long last. No longer is it an inoffensive pooch whose mutterings could be easily dismissed or simply ignored. The hound is now displaying some real teeth. And the Prime Minister may yet be the one who ends up getting badly bitten.
Cheryl Gwyn, the inspector-general of Intelligence and Security, has been in the job for little over three months. On her appointment to the long-standing and recently beefed-up oversight role, she set an objective for her three-year term: restoring public confidence that the Security Intelligence Service and its sister agency, the Government Communications Security Bureau, were truly subject to rigorous scrutiny and were not breaking the laws under which they operate.
The highly experienced lawyer could never have envisaged the SIS's handling of an Official Information Act request from an Auckland-based blogger being the first test of just how serious she is in seeking such a transformation.
Given it is always easier to get blood out of a stone than meaningful information out of the SIS or GCSB, the rapid and positive response to Cameron Slater's request for politically sensitive material of potential embarrassment to former Labour leader Phil Goff – as detailed in Nicky Hager's Dirty Politics – was puzzling and disturbing.
It was disturbing because Slater undisputedly got preferential treatment, receiving the material before journalists who made similar OIA requests.
Hager's book cites Slater's emails which leave the reader to draw only one conclusion – that Slater was tipped off about the material and told how to request it so he got it quickly.
Only officials or staff in the SIS, the Department of Prime Minister and Cabinet or the Prime Minister's office – all of which fall under John Key's responsibility – could be culpable. If someone from either of the first two departments was in collusion with Slater, then that amounts to a serious case of the polticisation of the public service.
If the latter office was orchestrating the release of the material, then it was being done for political purposes and was an abuse of power.
Gwyn has now deemed there is "sufficient public interest" to justify her holding her own inquiry to get to the bottom of what happened.
It is a hugely significant and – given the current acute political sensitivities surrounding Hager's book – unprecedented step for her office to take.
Gwyn is to be applauded for having the gumption to dive into the deep end of a political brouhaha of such messy but high-stakes proportions.
It seems unlikely she will have enough time, however, to complete her inquiry and release her findings in the little over four weeks left until the election.
And for that, the Prime Minister – locked in the political fight of his life on a number of fronts – could yet end up being extremely grateful.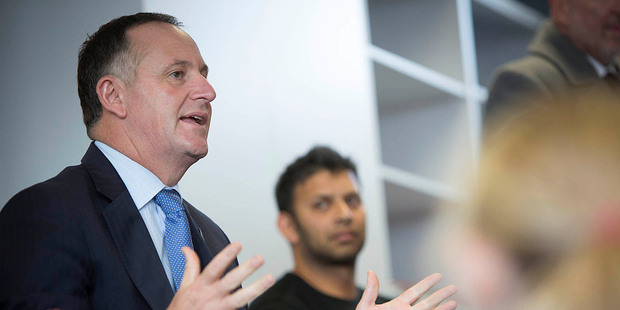 When is "borrowing" someone else's property okay in the Prime Minister's eyes? When, it seems, it's carried out by a senior adviser in his office working in concert with National Party staff and activists.
Since Nicky Hager's Dirty Politics bombshell blew National's election campaign off course last week, John Key has been trying to brush aside the book's revelations as the work of "a left-wing conspiracy theorist" and to defend the underhand National Party tactics exposed as the sort of thing everyone does.
He's going to have to do better than that. Take, for example, the infiltration of the Labour Party computer.
The book reveals new details of the June 2011 National Party raid on the Labour Party computer system. Mr Key doesn't deny it. He can't. Party bosses admitted at the time it had occurred. Mr Key now acknowledges the book's claim that Jason Ede, then his senior prime ministerial communications adviser, and assorted National Party staff and supporters took advantage of an insecure back door in the Labour Party headquarters computer to search confidential party records.
Credit-card transactions, membership lists and 18,000 emails were downloaded at the time, whether by party employees or by the PM's blogger mate, Cameron Slater, is unclear. The book reveals Mr Slater and Mr Ede both accessed the site more than once and plotted how best to reveal the stolen material on Mr Slater's blog.
Following the intervention of Privacy Commissioner Marie Shroff after Labour discovered the attack, National's general manager, Greg Hamilton, said the party would not publish any of the material.
Mr Key now shrugs the episode off, arguing if left-wing bloggers had found a similar weakness in the National Party computer system, they'd have been in like robbers' dogs. Or All Blacks! He told Radio New Zealand: "If the Wallabies on Tuesday night had left their starting line-up up on their website, on their private website, would the All Blacks go and have a look? The answer is yes. The reason I know that is it's happened."
What a difference three years makes.
In the dying stages of the 2011 election campaign, five months after National's raid on the Labour Party computer, Mr Key was outraged when he discovered his "secret" cup of tea conversations with Epsom Act candidate John Banks had been taped by one of the myriad news gatherers summoned to witness the carefully managed publicity stunt.
He was full of moral outrage that his private sweet nothings with Mr Banks might be heard and read by the rest of us. The Herald on Sunday, which had obtained a copy, asked Mr Key for permission to publish the conversation, recorded inadvertently according to the freelance cameraman Bradley Ambrose. He refused, damned the "News of the World tactics", and filed a complaint with the police.
The police promptly issued a chilling statement that it was an offence under the Crimes Act to disclose private communications unlawfully intercepted and was punishable by up to two years in prison.
Mr Key has conveniently chosen to ignore what the Crimes Act has to say about what Mr Ede and his co-conspirators had done just a few months before. The law regards computer invasion as even more heinous. Everyone who accesses a computer system and "dishonestly, or by deception, and without claim of right … obtains any property, privilege, service … benefit" is liable to a prison term of up to seven years.
Even just intentionally accessing "any computer system without authorisation" carries a jail term of up to two years.
That sounds remarkably like what went on in the office two doors along from Mr Key's on the prime ministerial Beehive floor. Mr Ede and his conspirators were shown the unlocked back door of Labour's computer system by one of Mr Slater's mates, idle and "bored" – his word – rich boy and one-time Auckland City councillor Aaron Bhatnagar. They burst into the computer uninvited, snooped around it at various times over a week, inviting friends to join in as well. One or other of them downloaded reams of private material to sabotage the Labour Party.
The Hager book reveals not a tinge of guilt, or worries about legality or privacy issues. Mr Bhatnagar seemed more interested in glory, telling Mr Slater he "wouldn't mind a wee wink and nod one day in appreciation". Mr Slater replied "will do", but didn't. Instead, according to Mr Hager, Mr Slater soon claimed all credit for himself.
Once Mr Slater started bragging online about their haul of Labour Party secrets, he and Mr Ede engaged in email banter about how lucky they were not to be caught out.
Just a few months later, Mr Key denounced such behaviour as criminal, and demanded the police set an example. Now it's been revealed his own office was up to the same thing around the same time. Yet all we get is a prime ministerial shrug, and the claim that the All Blacks do it, so it must be okay.
Breaking 
Monday Aug 18, 2014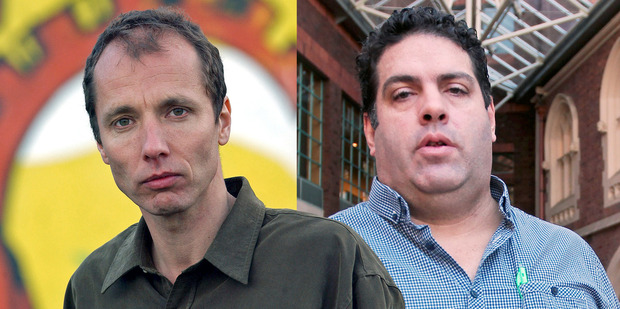 Documents described as detailed email transcripts of conversations between Whaleoil blogger Cameron Slater and his anonymous sources have been provided to the Herald by an individual claiming to have hacked the website.
The person who provided the information says they are Nicky Hager's source for his Dirty Politics book and further information will be made public today through the Twitter handle @whaledump.
Mr Hager says a hacker supplied him with vast amounts of Slater's personal email and social media information taken during an assault on the Whaleoil website in January.
Read more:
• JOHN KEY: Ede has been 'briefing the bloggers'
• DIRTY POLITICS: Hager's tell-all chapters
• ELECTION: Race getting tighter and grubbier
• FIGHTBACK: Kim Dotcom hits back at Slater claims

The communications were used by Hager to write his book, which aims to paint John Key's National government as one which allows and encourages dirty political tactics.
The Herald has been in communication with the person claiming to be the hacker for a week.
The hacker made contact with the Herald after Hager announced a book would be published but made no comment about its contents until it was released.
The Herald sought additional information from the hacker to prove claims they were the person who had hacked Slater's website.
The information, which was provided yesterday, showed a range of details which could be directly linked to Slater.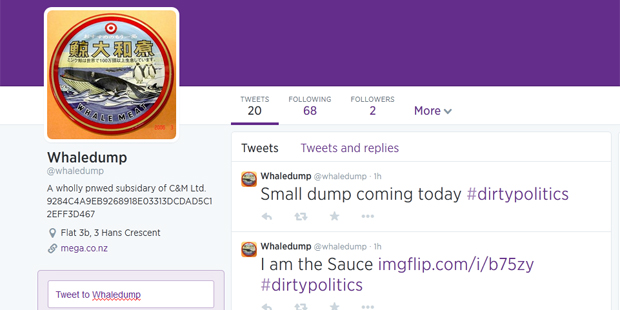 The Whaledump Twitter account.
Separate investigations by the Herald had uncovered the identities of people named in Dirty Politics, including the woman who sought to have her ex-partner moved in prison and an ex-prostitute who was asked to find dirt on people Slater wanted to blog about.
The person claiming to be the hacker was able to identify the same people accurately and supply further information which supported claims they had penetrated the website.
Also provided was Slater's contact list, along with information related to a defamation case the blogger is facing.
The information provided through the link is hosted on the encrypted Mega website set up by Kim Dotcom, who has denied any link to the hacking. Dotcom's Mega website – which is open for public use – allows secure encryption for users, giving the hacker a layer of protection.
The Twitter handle carries the address 3 Hans Cres – the address of the Ecuadorian embassy in London where Wikileaks founder Julian Assange is exiled.
Nicky Hager's Dirty Politics has set the election campaign alight. Have our politicians reached a new low in gutter tactics? Hager picks five crucial parts of his book and invites you to make up your own mind
On the Len Brown affair
Far from feeling remorseful, Cameron Slater was empowered by his spectacular attack on Len Brown.
Just one week after the affair was made public, when it was clear Brown was not going to resign, Slater started hunting for more sex-related dirt on the mayor.
On October 23, he asked his ex-prostitute friend if she could help to dig up some more stories: "Rattle your cages to see if Len rooted in brothels." He declared confidently: "He will have. I'd love a hooker to come forward and tell all about Lenny."
His friend wrote back: "What man in grey hasn't?" Slater continued: "Get me dirt … he will get away with it otherwise … whatever you can rustle up, what he likes, when, how, and how he pays."
His friend said: "I will get my sticky feelers out."
Slater often pumped his ex-prostitute friend for information.
"Now tell me who … current MPs … are rooting in brothels and like different stuff," he wrote in June 2011. His friend replied he should talk to another woman with "her finger more on the pulse" and who knew "heaps of shit".
She said: "I should send you a friend request, she is on the piss tonight, so may spill." Slater said: "Right let's get digging … time to let those pricks know they can be got." His friend checked that Slater would not name her on his blog and he assured her he would not even mention her.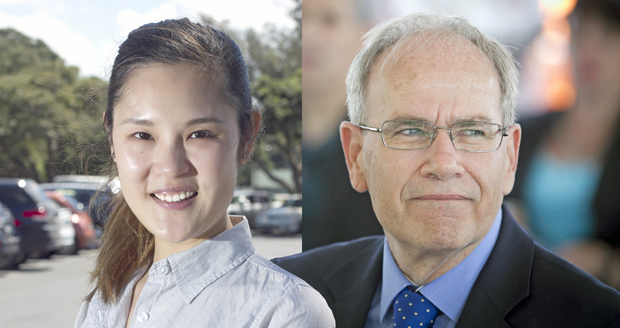 Slater dug deep for more salacious details on Len Brown. Photos / NZ Herald
"Done," she replied. Slater said, "Ok cool … i want to take out some pollies. Let them know they can be got, so [they] play ball with the whale."
The following month, Slater pressed his friend for information again. "How many politicians did you do?" he asked. "A lot," she said, "and what is interesting is Iampulling all accounts from my club days … so there are some high people's accounts on there that will ping my memory." Slater replied, "Oooohhh can I have the politicians please?"
Slater sent Aaron Bhatnagar a copy of an American article about Nixon era dirty tricks, which the people involved had called ratf**king. He said, "Someone posted this on a blog yesterday in a post about me … Let us raise a morning glass to Donald Segretti, the ratf**ker … Apparently it is dreadful and I am guilty of it … I view it as aspirational," he said. "It is proper politics."
On Judith Collins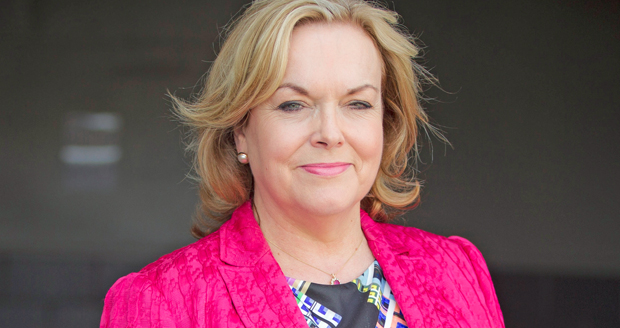 Collins and Slater had similar dislikes and enmities. Photo / Michael Craig
Collins' cynicism about her colleagues is clear in her conversations. "Did you notice that Deborah Coddington was talking up [National MP] Nikki Kaye today in HOS[Herald on Sunday]?" he wrote. "Wonder what she is expecting in return."
Or writing about her Act Party coalition partner: "Boscawen will be right … He's too Asperger's to lie." And when one of her least favourite Cabinet colleagues, Simon Power, announced he was leaving at the 2011 election, she commented, "all those 2005 intake [of National MPs] who suck up to him would have thought, 'What, you bastard, why did I waste my time being nice to you'?"
But what Collins and Slater shared most were their dislikes and enmities. Their hostility towards many people in the National Party was at least as strong as their dislike for their political opponents. Collins wrote about Auckland National Party internal politics, "Personally, I would be out for total destruction … But I've learnt to give is better than to receive." They called it the double rule. If someone attacked them, they gave back twice as much. Here is Slater writing about a senior National Party official who had annoyed him:
Cameron Slater: he is a very silly man, because I could stop the people who are going against him. But now, he is just is going to get double.
Judith Collins: you know the rule. always reward with Double.
Cameron Slater: I learned the rule from you! Double it is.
Judith Collins: If you can't be loved, then best to be feared.
On National's Jason Ede
It had been a close shave. The next day, June 14, Ede and Slater exchanged several emails expressing their relief that Labour had not discovered Ede's role [going inside the Labour Party computer]. Ede wrote: "An interesting sidebar … is that they're chasing us by matching IP neighbourhoods and the types of computer we use. You stand out like dogs balls because of your damn Mac!!!!!" He continued, "In my case, I wish to offer a hearty sigh of relief and celebrate dynamic IP addresses." He meant his computer regularly changed its IP address, which ensured he could not be identified by its IP address. If Ede had had a static IP address like Slater, the Labour Party might have been able to prove he had been inside their computer system. Ede titled his email, "Thank You for dynamic IP addresses".
It is unusually grubby to have a member of the prime minister's staff digging around in their opponent's computer system looking for dirt. Ede was doing all this in his role as "senior adviser" to the prime minister, based in his ninth-floor Beehive office, number 9042, only two doors away from John Key's. Senior party officials were involved as well as the senior adviser, and it seems improbable that either would do it without informing the prime minister.
On lobbyist Carrick Graham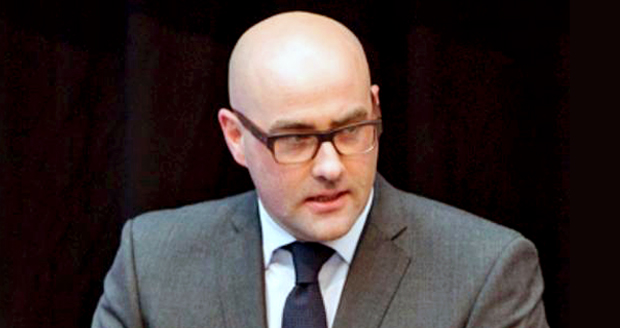 There is a 2005 film called Thank You for Smoking, which concerns the tobacco industry's main lobbyist in Washington DC, a fictional character called Nick Naylor. Suave and cynical, he enjoys his job. He meets once a week with two other lobbyists, his closest friends, at a corner table in Bert's Restaurant: Polly Bailey, a lobbyist for the alcohol industry, and Bobby Jay Bliss, the chief spokesperson for the firearms industry. They call themselves the Mod Squad, which jokingly stands for "Merchants of Death".
Every country has its Mod Squad and it goes with the territory that the people involved tend to be jokey and cynical about their choice in life. In New Zealand, Nick Naylor's real-life equivalent is a man named Carrick Graham, who worked for 10 years as the PR person — lobbyist ("corporate affairs manager") for British American Tobacco, the country's largest tobacco company. Like Slater, he is a child of the National Party. His father, Doug Graham, was a long-time National Cabinet minister, and Graham junior and Slater grew up surrounded by the intrigues of the Auckland National Party. His official story is that he used to work for the tobacco industry, starting in 1996 and leaving in 2006, but it seems he just changed his employment arrangement, moving from employee to generously paid consultant. Carrick Graham is the main person, year after year, who has paid Cameron Slater most of his income.
Slater earns his living by putting articles on his website written by Graham, and others, as if they are his own work. This includes material for the tobacco industry but, like the Mod Squad, also for large alcohol companies and other lucrative clients that prefer not to operate openly. Grahamand others send Slater the completed articles, the heading already written and often the pictures supplied, and he simply pastes them on to his site and publishes them at the specified time. As the country's largest audience political blog, it is a potent platform for planting corporate messages.
On PM John Key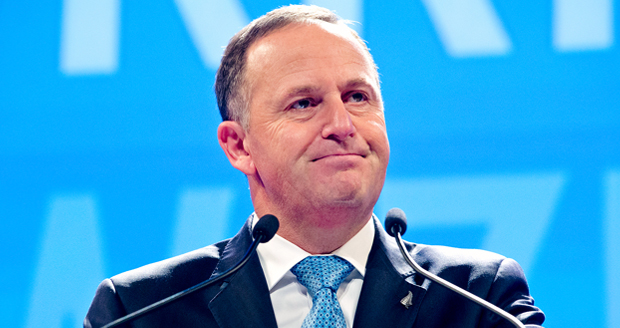 Prime Minister John Key. Photo / Mark Mitchell
This brings us full circle to the start of the book and Slater's gratuitous insult about the young "feral" who died in Greymouth and did the world a favour. In the ferocious public backlash that followed, Slater's friends rallied around to support him. According to Slater talking on Facebook, one of those who phoned him to commiserate was John Key.
It was five days since Slater had written the grossly insulting post and, as usual, he was talking over events on Facebook with his buddy, Russell Beaumont (blogger Barnsley Bill). Beaumont raised the subject of the young man's outspoken and grieving mother. Slater replied, "Why would I apologise to that slut?" Beaumont said, "You were never going to apologise anyway." Slater was feeling justified about what he had done. "JK [his usual shorthand for John Key] rang me," he said.
In Slater's words, Key had told him that the dead man's mother "was the same feral fucking bitch that screams at him when he goes to Pike River meetings". It seems unlikely that Key would have used such language, but it is clear he had rung to reassure Slater he should not feel bad about upsetting the mother. When the rest of the country was feeling appalled by Slater's offensiveness, the prime minister of New Zealand was calling to show his support.
August 15th, 2014
Call me old-fashioned, but ad hominem attacks have almost seemed the last refuge of a scoundrel. That doesn't mean you can't reach a conclusion or make a judgement call – but you need to be guided by the evidence. You don'tstart with personal abuse, to try and distract people from looking at the evidence. Right now, that's the difference between John Key and Nicky Hager. Key's desperate accusations: "screaming left wing conspiracy theorist" "typical Nicky Hager book" "baseless accusations" "what ifs" etc etc are personal slurs that can be easily refuted by picking up the book and reading what it contains. If I was Gareth Morgan, I'd spend a few bob on sticking a copy of Dirty Politicsin every letterbox in New Zealand, before the election.
In stark contrast, any judgements arrived at by Hager proceed from the black and white evidence of what the likes of Justice Minister Judith Collins have said and done – in their own words, and reflected by their own deeds. When you recall that Collins has supposedly been on notice in the wake of the Oravida scandal…it seems pretty clear that it is John Key who is the empty vessel here. No doubt, Collins will survive this latest debacle. Yet BTW, the fact that Steven Joyce has been fronting the government's response at this dark hour shows just how decisively the power has shifted this year to Joyce in any if- Key-went-under-a-bus succession race.
At this point, its hardly necessary to retrace the entire Collins chapter of Hager's book. Suffice to say, the collusion between Collins and Cameron Slater – and the apparent misuse of privileged access to personal information – makes for compelling reading, and should be cause for Collins to be stood down from her ministerial post, pending an independent investigation into whether serious improprieties have occurred. Fat chance of that happening. At this point in the election campaign, National is circling the wagons – and a resignation wouldn't happen even if it could be shown that a Cabinet Minister had released personal data to a blogger to enable the target to be publically subjected to a torrent of personal abuse, up to and including death threats. Oh wait: that is what happened here.
Talking of death threats, too little has been made of the threat to Hager himself in an email sent to Slater, David Farrar and Matthew Hooton (see pages 91-92) in the wake of Hager's previous work on international tax havens. "Those Chinese can be very vicious when they lose face…It would be a disaster if they all knew where he lived. He might need Police protection…" etc etc. It doesn't matter that Hager's phone number and address are in the phone book. The intent seems all too clear.
To my mind, the people who have been victimised by the smear campaign that has been run out of the Prime Minister's office since at least 2011 deserve their day in court, or at least in front of an independent inquiry. It may not matter to Mike "No Smoking Gun" Hosking, but ordinary citizens – and not mere politicians – have been among those targeted by this grubby little cabal. In that sense, it is a bit of a shame that Hager's store of emails only date backwards from January 2014. One can safely bet on what the email traffic between Slater and his friends in high places with respect to Tania Billingsley would have looked like.
So far, at least one victim has had his say about being targeted by the Jason Ede/Cameron Slater clobbering machine. Labour MP Phil Goff was targeted by SIS file material released with suspicious speed to Slater before the 2011 election, when Goff was the Labour Party leader. In an interview with RNZ's Mary Wilson on Checkpoint last night, Goff eloquently explained what the evidence presented by Hager had revealed, and why it was wrong.
Incidentally, the Goff affair completely blows out of the water the claim that the National Party's relationship with Slater is no different to how politicians routinely engage with journalists. Leave aside the fact that Slater's tone and intent – to damage and silence critics of the government – is a little bit different to what normally constitutes journalism. Believe me, SIS files are not usually released to journalists – they're almost always flatly denied, as a matter of course. Moreover, they're not usually speedily released to meet a timeframe calculated to do the most political damage. Time and again, Slater has enjoyed extraordinary, privileged access to the Beehive and to private information that I would safely bet, is unique. No one else gets briefed in this way, on such topics. Journalists get fed, if at all, quite different levels of information and access. Oh, and in the Goff case, who could possibly have authorised the release of those documents? As Goff indicates, it could only have been the Minister of the Security Services, John Key. If Mike Hosking wants a smoking gun, there's one.
By Adam Bennett, Vaimoana Tapaleao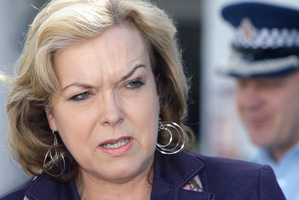 Key figures at the centre of theDirty Politics furore including beleaguered Justice Minister Judith Collins were yesterday avoiding media but retained at least some support from voters and family yesterday.
Ms Collins is facing calls for her resignation over her role in passing the name and details of a public servant she suspected of helping Labour in a political attack to Whaleoil blogger Cameron Slater.
Neither she or her office returned the Herald's calls yesterday, however a spokeswoman did respond to scotch a report that she had resigned. The report was sparked by a tweet from RadioLive host Duncan Garner linking to a satirical resignation letter he'd written.
No one came to the large gated entrance at Ms Collins' stunning home in Maraetai yesterday; despite there being two vehicles parked in the driveway.
Neighbours hadn't seen the politician in the last few days, but said they respected her.
One neighbour yelled out to the Herald "leave her alone!".
Staff at Ms Collins' electoral office in Clevedon were coy about the Minister's whereabouts; only saying that she was out campaigning.
Shoppers at Papakura's Roselands Shopping Centre had mixed views about their local MP.
Several people said they were upset about her passing information to Slater and were now looking to candidates for other parties.
Dorothy Lowrie, 78, said: "She's done a few too many mistakes and she's got away with them under John Key. It's just not good enough."
Another voter, who just wanted to be known as Kylie, said the whole affair was "dodgy" and had turned her off voting all together.
There were, however, a number of staunch supporters for not only Ms Collins but the National Party.
Nina Marsters, 49, acknowledged that the Papakura MP had done a lot for their community and overall represented them well.
"I'm not going to let one little thing change my view of her. She's a good lady and…everyone's looking at her in a bad way now – but what about all the other MPs who have done much worse?"
Simon Pleasants, the public servant who suffered abuse and death threats after Slater attacked him online using details supplied by Ms Collins was reluctant to comment yesterday.
"At the time it was very disturbing and I put the matter in the hands of the police," he said.
Meanwhile Prime Minister John Key's former senior media adviser Jason Ede who Hager claimed had a central role in a National Party dirty tricks campaign was not returning the Herald's calls either.
Mr Ede's mother, who did not wish to be named, said he had not been in touch with her since Hager's book was published.