By Dr Lasha Darkmoon on January 31, 2014
Illuminati mind control symbolism does not only exist in the Western world. In Asia, the widely popular K-Pop scene is also replete with the same imagery. We'll look at the symbolism of A-JAX's "Insane" and Ladies' Code "Hate You", two blatant examples that prove the elite's symbolism is truly international.

K-Pop (pop music from South Korea) has garnered an incredible following across the world as its machine keeps creating new boy and girl bands and music videos that become instant YouTube hits. The "Korean wave" has hit not only Asia, but also Latin America, Northeast India, the Middle East, and North Africa. However, while K-Pop appears to have become somewhat of an alternative to Western pop culture, it is not exempt from the Illuminati symbolism and the Agenda found in Western pop. In fact, the symbolism is often more blatant and in-your-face with K-Pop videos, causing me to ask: Is K-Pop truly an alternative to Western pop or just an effective way for the elite to get its message across in Asia?
A quick look at K-Pop videos such as A-JAX's "Insane" and Ladies' Code "Hate You" is all it takes to realize that mind control symbolism is as heavily pushed in K-Pop than it is in the West. In fact, both of these videos basically read like a MK-101 manual, using all of the symbols associated with it and portraying the stars as slaves. K-Pop has effectively become another outlet for the elite to promote its "mind control culture", even alluding to its sadistic practices in stylish videos aimed at young (and unaware) people. (For more information mind control, read the article Origins and Techniques of Monarch Mind Control.) Let's look at the videos and see how they fit right in with the MK Agenda that is also pushed in the Western world.
If you're a regular reader of this site, you can by now easily recognize the specific set of symbols that is used by the occult elite its promote MK culture. Those who are part of the Monarch programming system have created a disturbing culture surrounding it, complete with esthetics and symbols that are now omnipresent in mass media. All of this is packaged with catchy tunes and good-looking performers, which causes young people to subliminally associate this culture with positive feelings, even making it fashionable. As the above videos prove, this is all becoming increasingly blatant and interpreting these videos through the mind-control lens is almost impossible.
While the mind-control culture appears to have originated in the United States, the exact same set of symbols and meanings are also present in the booming South Korean pop scene. The fact that this is happening proves two things: First, the set of symbols I describe in videos is NOT a result of coincidence. It is cohesive imagery that originates from Monarch mind control. Second, it is obvious that at the top of all music industries, whether it be in America, Europe or Asia, the same occult elite are promoting the same Agenda. Why does Baphomet have to be in all of these videos across the world? Because the horned head represents those in power, and those in power are not your locally elected politicians, but a global elite. Through these videos, you are being told what the elite believes in and the sick practices it engages in. Are people rebelling against this? No, quite to contrary, they are dancing to it and paying money to purchase it. I guess A-JAX aren't the only ones who are Insane.
The Rolling Stones, Sympathy For The Devil And The Phoenix
 Reblogged from Merovee:
Last night, at the Glastonbury music festival, the Rolling Stones rolled out their zimmer frames once more to increase their bank balances a little bit more .
But I don't think it was the money which was the main reason for their inclusion . At the start of"Sympathy for The Devil", a huge Phoenix rose above the Pyramid stage, as it was transformed into a Hell and flames licked the stage .
James Hall is taken aback by a pulverising live performance of Pink Floyd's The Wall.
Roger Waters performs Pink Floyd's The Wall Photo: Chiaki Nozu
At one point during Roger Waters' pulverising performance of The Wall at Wembley Stadium, the former Pink Floyd member started duetting with a 50 ft high video of himself, filmed over 30 years ago at Earls Court when he performed the same show. Before he did so, he told the 70,000-strong crowd that he didn't want to appear "narcissistic".
Waters' attack of modesty was amusing given that the entire 30 million-selling The Wall album is a vast autobiographical mush of his upbringing and worldview. The 'Roger Waters The Wall Live' tour, now in its third year, has seen the 70-year-old perform the rock opera over 200 times to close to 4 million people in arenas around the world. Bashful? The very thought is, like Waters himself, a bit rich.
But what a show. Beefed up for stadiums, the £37 million production was an immersive sensory extravaganza featuring huge Gerald Scarfe puppets, state-of-the-art animation, flying pigs, fireworks and the famous white wall that gets built up as the show progresses and knocked down at its climax. (The wall was so big that it made Wembley seem cosy).
Grey, lithe and in good voice, Waters prowled the stage looking like a grouchy Richard Gere. The sound was exceptional, the best I've heard at a stadium gig; loud, crisp and 'in surround'. When a replica Spitfire flew across Wembley's rafters and crashed into the wall in flames, it was the sound that rendered it not only believable but chilling.
Almost as extraordinary as the sound were the mind-bending animations. It was therefore baffling that when presented with probably the most advanced visuals in the world, half the crowd decide to watch them through the screen on their camera phones.
Musical highlights were a devastating Comfortably Numb and the moving, new Ballad of Jean Charles de Menezes, killed by police in the wake of the 7/7 attacks. Thematically it was bit all over the shop. On the surface The Wall is the story of an alienated rock star called Pink (Waters), who has an overbearing mother and hates school. Everything he goes through is "another brick in the wall" of life. But it is also about loss, war and grief.
Last month Waters sparked controversy by calling for fellow rock stars to boycott Israel for what he called its "crimes" and "apartheid". The Wall in the show certainly appeared to make references to Israel's West Bank wall: at one point a projected plane dropped hundreds of Star of Davids from its undercarriage as if they were bombs. It would be tempting to read some kind of message into this. However, given that the plane also dropped crucifixes, hammer and sickles, and the corporate logos of Shell and Mercedes-Benz, the only real message we could take from this was that someone in Waters' graphics team has been busy. (Waters has also denied any suggestions of anti-semitism).
But The Wall was really about spectacle, not politics. Over 30 years after its release, it still sets the bar for stadium rock shows.
English: This image file, Roger Waters O2 Arena London 18 May 2008, is a cropped image from WikiCommons, the original source file is listed below (Photo credit: Wikipedia)
Roger Waters Fires Back at Rabbi Who Called Him a 'Hater of Jews'
Roger Waters called for a boycott of Israel earlier this year, and now the former Pink Floyd singer-bassist is defending his The Wall Live Tour from accusations of anti-semitism in a Facebook post, titled "An open letter from Roger Waters."
Waters begins the letter by explaining the recent controversy that erupted after a performance in Belgium last week: An Israeli man alerted a news source with video footage of a Star of David-marked prop pig that was featured in the show and destroyed by the audience at the end of the performance.
The story gained traction and was picked up by Jewish newspaper The Algemeiner. Rabbi Abraham Cooper, Dean of the Simon Wiesenthal Center, told The Algemeiner that Waters "is an open hater of Jews" and urged other artists to "denounce his anti-Semitism and bigotry." In his Facebook post, Waters calls Cooper's words "wild and bigoted" with an "entirely predictable resulting rant."
Waters first criticizes Cooper's use of "anti-Semitic," saying the Anti-Defamation League has ruled his work has no anti-Semitic intent. "I also use the Crucifix, the Crescent and Star, the Hammer and Sickle, the Shell Oil Logo and The McDonald's Sign, a Dollar Sign and a Mercedes sign [in the show]," writes Waters.
Waters then defends himself from Cooper's claims of Jew-hating by noting that he himself has close Jewish friends, including Wiesenthal's nephew, and a Jewish daughter-in-law. "[She] is Jewish and so, in consequence, I'm told, are [my grandsons]," he writes.
Waters' third and final point addresses Cooper's use of the word "Nazi." Waters points to his father, who died fighting for Britain in Italy during World War II, and his upbringing in post-war England. "I received the most thorough education on the subject of Nazism and where I was spared no horrific detail of the heinous crimes committed in the name of that most foul ideology," writes Waters, also pointing to his mother's political involvement.
"I for my part, as best I can, have continued along my parent's path," Waters continues. "At the age of nearly 70, in the spirit of my Father and Mother and all they did, I have stood my ground, as best I can, in defense of Mistress Liberty."
Read More: Here
August 30, 2013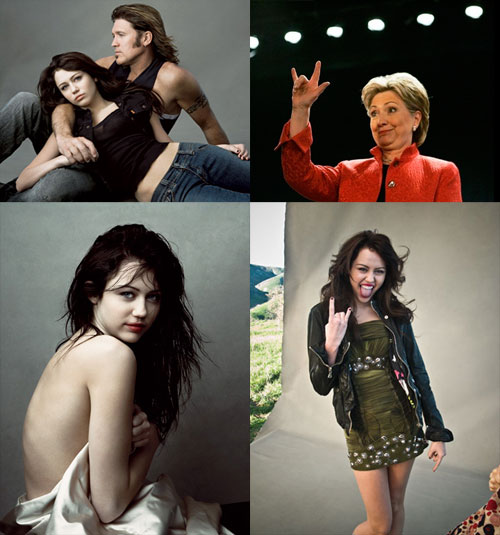 (2008 Vanity Fair Pedo Pictorial- Miley Cyrus at 15) 
As society is inducted into a satanic cult, people become more demonic.
Witness our leaders gassing Syrian civilians and, waxing indignant, use it as a pretext for wider war. Witness our schools grooming children for homosexual pedophiles.
So too our entertainment increasing resembles satanic rituals, which use sex to degrade and dehumanize. As "Hannah Montana," Miley Cyrus was a role model for millions of young girls. Her obscene performance Monday where she simulated sex surrounded by human-size teddy bears  now prepares them for pedophilia.  Along with other reactions, I re-post my 2008 article which discussed this degenerate Illuminati agenda. 
Illuminati Huffington Post on :
"Miley's performance may have been raunchy, but no one can deny that she seemed to be enjoying flaunting her sexual power and prowess. She would be no man's sexual victim. She modelled for our girls that even a sweet Hannah Montana could grow into a sexually confident young woman who was having a very good time with her sexuality.
I think we were maybe too quick to judge…or maybe we judged her so harshly because she reminded us of those fleeting moments when new relationship energy emboldened our own sexual enjoyment, so soon submerged again under layers of shame and fear. I think we may need more, rather than fewer, reminders that when women and men together decide to revel in their sexuality, magic happens."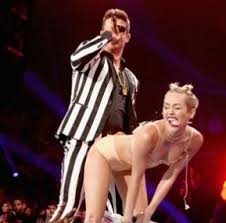 But most of the Mass media was not Impressed. The Toronto Globe and Mail :
(Crazed satanic pedo-slave theme – 20 year old girl rubbing against a 36 yr old married man, Robin Thicke )
"According to witnesses, ["Hannah Montana's] death occurred [Monday night] when Miley Cyrus, 20, joined Robin Thicke for a rendition of his smash-hit homage to the patriarchal hegemony, Blurred Lines, during the VMAs. Cyrus, wearing a skin-coloured latex bikini, ground her twerking derriere into Thicke's groin, patted his nether regions with a foam finger, used the same foam finger to replicate a tumescent male penis, stuck her tongue out about six times too many and generally pranced around with the clunky and airless charm of a 75-year-old woman who lives her entire life without ever doing anything naughty and suddenly throws her reputation out the window during one bad moment at a wedding reception.
Viewers watching her performance who were not paralyzed by shock tweeted such words as "disgrace," "uncomfortable" and "mortification," and asked fellow tweeters to remind them to never let their children go into show business. Others urged her to "THINK OF THE CHILDREN!" - See more at: http://henrymakow.com/pedophiliathe_next_frontier.html#sthash.iXgl5slq.dpuf

…….." We will make the West so corrupt that it stinks". 
Willi Munzenburg


PREAMBLE: Extracts from CPS website:
Parliament has passed legislation aimed at outlawing crime where the offender is motivated by hostility or hatred towards the victim's race or religious beliefs (actual or perceived)."A racial group means a group of persons defined by reference to race, colour, nationality (including citizenship) or ethnic or national origins.""A religious group means a group of persons defined by reference to religious belief or lack of religious belief. This includes Muslims, Hindus and Christians, and different sects within a religion." It also includes people who do not hold any religious beliefs at all.
"HOSTILITY"
To prove that an offence is racially or religiously aggravated, the prosecution has to prove the "basic" offence followed by racial or religious aggravation, as defined in section 28 Crime and Disorder Act 1998. An offence will be racially or religiously aggravated if:
a) at the time of the offence (or shortly before or after), the offender demonstrates to the victim hostility based on the victim's membership (or presumed membership) of a racial or religious group, or

b) the offence is motivated wholly or partly by hostility towards members of a racial or religious group based on their membership (or presumed membership) of that group.
– demonstrating hostility is not defined by the Act. The ordinary dictionary definition of hostile includes simply being "unfriendly". Proving this limb of the offence requires evidence of words or actions which show hostility toward the victim. However, this hostility may be totally unconnected with the "basic" offence which may have been committed for other, non-racially or religiously motivated reasons. For example, an assault which takes place because of an argument over a parking place, but where the offender then utters racial abuse to the victim of the assault would come within the scope of this part of section 28.
– motivated by hostility may prove more difficult in practice. In the absence of a clear statement by the accused that his/her actions were motivated by his hostility to his victim based on his race or religious belief, for example, an admission under caution, how can motive be shown? In some cases, background evidence could well be important if relevant to establish motive, for example, evidence of membership of, or association with, a racist group, or evidence of expressed racist views in the past might, depending on the facts, be admissible in evidence.
THE BOOK OF MORMON
A member of my family bought me a ticket for a fairly new musical, 'The Book of Mormon'. I've just completed writing a musical myself so it appeared an 'appropriate' present. They hadn't seen it themselves but had been told the show was "very funny". I went to see it last Friday night.
No one considers themselves narrow-minded and neither do I, but I have to say that the experience was, for me (and in more ways than one), quite shocking.
More than shocking. Nauseating.
Firstly, having watched a couple of footballers being fined for making run-of-the-mill racist comments last year, it was staggering to me that this 'show' had not simply been sued out of existence. It was surely impossible that black people, and Ugandans in particular, would not be gravely offended by this racist filth. As a Christian I found the depiction of Christ and Christianity intolerable, if (knowing the Zionist agenda and the cultural dominance of this group) less surprising. I was glad I was not a Muslim as I might have felt obliged to obey my feelings and burn the theatre down. Having what you regard as 'holy' (not criticised, nor argued against but) violated in this abominable manner is gratuitously abusive. The kind of abuse in which only a coward who knows he is well protected would dare to indulge.THE PLOT
Briefly, a group of insanely grinning newly-trained male Mormon missionaries are about to be sent to evangelize in some, as yet unknown, corner of the earth. Our two 'heroes' win the short straw, i.e. Uganda, the a*sehole of the earth, a place where villagers are tyrannised by a sodomising war-Lord, penniless and where most have AIDS. The cure for AIDS is to f*** a virgin, but as there no virgins left this has become…to f*** a baby. See 
script
extract below:
Mafala:
You're in Northern Uganda now, and in this part of Africa we all have a saying. Whenever something bad happens, we just throw our hands to the sky and say "hasa diga eebowai."
Cunningham:
Hasa Diga eebowai?
Mafala:
It's the only way to get through all these troubles. And, there's war! Poverty! Famine! But, having a saying makes it all seem better.
There isn't enough food to eat. Hawa diga eebowai. People are starving in the street.
Ugandans:
Hasa diga eebowai.
Women (Men):
Haaaasa Diga Eeebowai! (Haaaasa Diga Eeebowai)
Haaaasa Diga Eeebowai! (Haaaasa Diga Eeebowai)
Price:
Well that's pretty neat.
Cunningham:
Does it mean no worries for the rest of our days?
Mafala:
Kind of…
We've had no rain in several days.
Ugandans:
Hasa diga eebowai.
Mafala:
And 80% of us have AIDS
Ugandans:
Hasa diga eebowai.
Mafala:
Many young girls here get circumcised. Their clits get cut right off!
Ugandans:
Weyo!
Women:
And so we say up to the sky
Ugandans:
Hasa diga eebowai.
Women (Men):
Haaaasa Diga Eeebowai! (Haaaasa Diga Eeebowai)
Haaaasa Diga Eeebowai! (Haaaasa Diga Eeebowai)
Mafala:
Now you try it! [the other Ugandans react] Just stand up tall, tilt your head to the sky, and list off the bad things in your life!
Cunningham:
Somebody took our luggage away.
Ugandans:
Hasa diga eebowai.
Price:
The plane was crowded and our bus was late.
Ugandans:
Hasa diga eebowai.
Mafala:
When the world is getting you down, there's nobody else to blame.
Ugandans:
Weyo! [an Ugandan woman hands her baby over to Price and then joins the others in dance.]
Mafala:
Raise your middle finger to the sky and curse his rotten name!
Price:
Wait, what? [tries to give the baby back to the woman, but isn't able to, so he turns to address Mafala]
Cunningham:
Hasa diga eebowai. Am I saying that right?
Women:
Hasa diga eebowai.
Price:
[burping the baby] Excuse me, sir, but, but what exactly does that phrase mean?
Mafala:
Well let's see: eebowai means God. And hasa diga means "Fuck you." So I guess in English it would be, "Fuck you… God!"
Ugandans:
Hasa diga eebowai.
Price:
What??
Mafala:
When God fucks you in the butt,
Ugandans:
Hasa diga eebowai.
Mafala:
Fuck God right back in his cunt.
Ugandans:
Hasa diga eebowai.
Cunningham:
Hasa diga eebowai. What a nifty phrase.
Ugandans:
Weyo! [Price tries to find the right woman to give the baby back to, and his search gets frantic. He finally finds her and gives the baby back]
Cunningham:
Hasa diga eebowai. Hasa diga eebowai. [gets carried away and Price pulls him aide]
Price:
You have to stop saying that!
Cunningham:
I do??
Price:
It means something very bad.
Cunningham:
What?
Price:
They are saying F U to Heavenly Father.
Cunningham:
F U to Heavenly Father??? Holy moly I said it like thirteen times!
Women (Men):
[they begin sticking out their middle fingers] Haaaasa Diga Eeebowai! (Fuck you, God!)
Haaaasa Diga Eeebowai! (Fuck you, God!)
Price:
Excuse me, sir, but you should really not be saying that. Things aren't always as bad as they seem.
Mafala:
Oh really? Well take this fucking asshole Mutumbo here. He got caught last week trying to rape a baby.
Price:
What?? Why??
Mafala:
Some people in his tribe believe that having sex with a virgin will cure their AIDS. There aern't many virgins left, sooo, some of them are turning to babies.
Cunningham:
But that's horrible!
Mafala:
I know!
Ugandans:
Hasa diga eebowai.
Mafala:
Here's the butcher, he has AIDS
Here's the teacher, she has AIDS
Here's the doctor, he has AIDS
Here's my daughter, she has a_____
Wonderful disposition
She's all I have left in the world
And if either of you lays a hand on her…
I will give you my AIDS!
Ugandans:
If you don't like what we say, try living here a couple days.
Watch all your friends and family die! Hasa diga eebowai!
Men:
Fuuuck you!
Ugandans:
Fuck! You!
Women:
Hasa diga eebowai! [Price and Cunningham sit on the ground now]
Ugandans:
Fuck you God in the ass, mouth and cunt-uh!
Fuck you God in the ass, mouth and cunt-uh!
Fuck you God in the ass, mouth and cunt-uh!
Fuck you in the eye!
Men (Women):
Fuck you God in the ass, mouth and cunt-uh! (Hasa)
Fuck you God in the ass, mouth and cunt-uh! (diga eebowai)
Fuck you God in the ass, mouth and cunt-uh! (Hasa)
Ugandans:
Fuck you in the other eye! [Price and Cunningham get up. Mafala begins to dance with Cunningham and Nabulungi begins to dance with Price]
Women (Men):
Fuck you, God! (Fuck you, God!)
Fuck you, God!
Fuck you, God! (Fuck you!)
Ugandans:
Hasa Diga, Fuuuck Youuu Goddd! In the cuuuuuunt! [the villagers put up their middle fingers one last time, then leave. Mafala's daughter takes Price and Cunningham to their quarters]
Fuck you, God!
You're getting a feel for this stuff now?
As one might expect there were a large number of 'gays' in the audience. The screeches and roars of approval, the standing hands-above-the-head ovations were, for me, as shocking as anything happening on stage. Yes, much of the prancing 'gay' stuff was funny but the obviously offensive material (well, obvious to me anyway) did not seemingly detract from enjoyment of the evening. Small were the number who did not stand and applaud tumultuously.
The leading missionary gets anally raped by 'the general' and much fun is had watching our hero painfully trying sit down. The weaker missionary becomes a hero. He tells the Ugandans they shouldn't f*** babies, That's wrong! (but how would they know? Being black? And seemingly subhuman. O, go on tell me! I'm missing the point. Why don't you bring on Ricky Gervais for a few 'post-modern 'spastic' jokes).
The missionary tells them that his 'Holy Book' (which he has not read) says they must f*** frogs instead…..so much onstage f***ing of frogs ensues.
He also gets to 'baptise' the villages pretty girl. In this scene of hideous double-speak (for any Christian) 'baptism' actually means he gets to shag the girl.
The whole village converts although their version of Mormonism is wildly 'inappropriate' and misconstrued (but how would subhumans begin to understand such a thing?). They celebrate their conversion by cavorting about the stage wearing 18 inch erect penises.
Meanwhile Christ, Joseph Smith, Darth Vader, Hobbits, Hitler and various other characters (they're mostly fictional, mostly evil) are represented as interchangeable and (it is implicitly suggested) equally valid, sources of human inspiration.
(All this stuff can be found in the script, if you're interested)
Hmmm.
It can be no coincidence that one of the main writers describes himself as 'ethnically Jewish' (no available info on the other one).
The utter cultural dominance of anti-Christian Zionists is in our faces for all to see. That it should come to this is no great surprise. That so few seem to care about it testifies to the brilliance, thoroughness (and the intensive funding) of their enterprise.
As our Zionist leaders prepare to bomb Syria from a safe distance.
As they prepare to sacrifice poor US blacks and 'Appalachians'.
As the Zionist elite prepare to flee Israel (as they are ready to do at a moment's notice (see Jewish Christian convert Roi Tov's "The Cross ofBethlehem")
….happy to sacrifice Israeli 'schnorrers' (the poor Jews who don't matter) when Iranian, Russian or Chinese missiles strike.
As World War Three gets underway……..
Look around you.
Look carefully.
Inhale.
Deep breath.
…….catch the smell?
Have we been degraded and polluted beyond belief?
If so, can it all be someone else's fault?
'Not many make it out of Hollywood alive or sane': why child stars 'go crazy'
Interesting that the article (above) skips lightly over item 5 on the list, when this is the most likely cause of trauma to the young starlets.
June 3, 2013
Bankrolling wars is not about the outcome of wars, but generating debt from wars, and that "this is the very essence of the banking industry, to make us all — whether we be nations or individuals — slaves to debt." (From "The International") 


Conspiracy pioneer Jim Perloff reviews
a handful of movies that tell the truth
about world power.
by James Perloff
(henrymakow.com)
Hollywood is no place to find political truth.  Although it has produced–with increasing rarity–some uplifting films, and even anti-Communist ones during the Cold War, movies exposing the Illuminati and how they operate are almost nonexistent.
However, an occasional film has slipped through — or was permitted to. (I don't refer to Illuminati films with sly Illuminati references, but movies genuinely opposing them.)
One was 1970′s made-for-TV The Brotherhood of the Bell, reviewed by Dr. Makow and viewable on YouTube.
2) "MURDER BY DECREE"
Also on this site, John Hamer unveiled the truth about the Jack the Ripper slayings.  The victims were a group of prostitutes who attempted to blackmail the royal family.  Prince Albert Victor had impregnated and secretly married one of their number.  The royal family entrusted the girls' elimination to high-ranking Masons, who slew them in Masonic ritual style.  The last girl's death reveals why the murders suddenly halted, as did police investigation.  The compromise of Charles Warren, metropolitan police commissioner — and 33rd degree mason — largely explains why the crimes went "unsolved."
Many of Hamer's revelations were dramatized in the 1979 film Murder by Decree.  Although the plot set fictitious Sherlock Holmes (Christopher Plummer, with James Mason as Dr. Watson) after the Ripper, it captured much of the reality.  In a memorable scene, Holmes throws Charles Warren off guard by greeting him with an upper-level Masonic handshake. See this very anti-Masonic scene here. 
3) 'THE WILD GEESE'
Truths must usually take a back seat to plot, because preachiness undermines a film's appeal.  The Wild Geese (1978), about mercenaries rescuing an African leader, was generally considered a simple action flick.  But the leader was modeled on Moise Tshombe, the Christian who attempted to secede his province, Katanga, after the Congo came under Soviet-backed Patrice Lumumba.  Tshombe's forces battled UN (world government) troops imported to force his hand, and after exile he died under questionable circumstances.
In the film, the mercenaries are hired to rescue the leader by a treacherous merchant banker whose interest is copper concessions, and who is so powerful that he intimidates London's mafia. While the mercenaries are in Africa, in London the banker negotiates a new copper deal with the country's dictator, leaving the betrayed mercenaries to fight their way out against Simbas and their Cuban and Soviet advisers. Politically incorrect to the hilt, one of The Wild Geese's heroes is a white South African.
The banker, Sir Edward Matherson, seems modeled on the Rothschilds, long invested in African mining, and long partnered with Jardine Matheson.  When the mercenaries' leader, Colonel Faulkner (Richard Burton) first meets Matherson, there is immediate mutual dislike.  Faulkner asks brusquely, "What do I call you? Sir Edward?" Matherson haughtily replies, "You do."– possibly a veiled reference to the Rothschilds acquiring titles via wealth (Nathan Rothschild was Britain's first Jewish peer).
Superbly scripted 4) Chinatown (1974) underscored the near-futility of battling the conspiratorial schemes of the super-rich — and the frustrations of persuading people that such conspiracies exist.  There is a memorable confrontation between the hero, private detective Jake Gittes (Jack Nicholson) and the villain — ruthless , depraved multimillionaire Noah Cross (John Huston), whose daughter bewails that he "owns the police." Gittes asks him a question many have wanted to ask banksters: "Why are you doing it?  How much better can you eat?  What can you buy that you can't already afford?"  Cross replies: "The future!"

5) 'THE INTERNATIONAL'
The International  (2009) pits Interpol agent Louis Salinger (Clive Owen) and New York assistant DA Eleanor Whitman (Naomi Watts) against a multinational bank, the IBBC.  Besides realistically portraying the banksters, and their infrastructure of lawyers and compromised police, many interesting revelations are woven in.
Salinger and Whitman approach an Italian arms magnate who has just aborted a deal with the bank.  From him, they learn that the IBBC is brokering arms to Third World nations.  They discover that bankrolling wars is not about the outcome of wars, but generating debt from wars, and that "this is the very essence of the banking industry, to make us all — whether we be nations or individuals — slaves to debt."
Later in the film, Salinger captures Wilhelm Wexler, who runs the bank's security.  Asked how the bank can be brought down, Wexler replies:
"Your idea of justice is an illusion.  Don't you know that the very system you serve and protect will never allow anything to happen to the bank? On the contrary, the system guarantees the IBBC's safety because everyone is involved."
Salinger asks who "everyone" is; it includes the CIA, his own government, and multinational corporations.  Says Wexler: "This is why your investigative efforts have been undermined and why you and I will be quietly disposed of before any case against the bank ever reaches a court of law… If you really want to stop the IBBC, you won't be able to do it within the boundaries of your system of justice — you will have to go outside."  Salinger does. See this superb scene that explains more than I can here.
FINALLY, I can't overlook two non-Hollywood movies - the must-see Occult Forces,  a 1943 French film that brilliantly exposed Freemasonry –probably made possible by the brief advent of Vichy France — and whose director and producer were both executed after the war; and the movie, "1984″ , which so prophetically portrayed today's age of increasing surveillance and totalitarian control, filmed several times, but none better than the Hurt-Burton version.  I'm sure this website's readers know other examples.
———————–
James Perloff is author of The Shadows of Power and Tornado in a Junkyard. His newest book, Truth Is a Lonely Warrior, available in Kindle format, is a comprehensive look at the satanic drive for world government. 
What do New York City and London have in common?
June 8, 2013
With a danish and coffee in hand, Holly
taught modern women to chase a chimera
and eat on the run.
Dog's Breakfast – "a mess, a muddle, a hodgepodge – something badly done."
"Heterosexuals are portrayed as prostitutes who must get used to selling their souls in order to survive. " 
by Henry Makow Ph.D.

In retrospect, the movie "classic" "Breakfast at Tiffany's" (1961) was a major salvo in the Illuminati's war on heterosexual society. We can now clearly see their goal is not "gay rights" or "equality" but making homosexuality the societal norm. 
While passed off as a "romance," this movie was poison to heterosexuals. It set the 1960′s template where women were allowed to lose their minds and men were forced to rescue them. From that point on, it was all about their needs.
The movie was written by Truman Capote, left, a product of a broken family who became a homosexual. Like Tennessee Williams, he was championed by our Illuminati Jewish cultural controllers. His crippled, perverted vision was held up to the goyim as the last word in sophistication.
In the movie, the heterosexual Adam and Eve are portrayed in homosexual terms. Essentially they have to traverse a gay obstacle course in order to find heterosexual love and marriage.  For 1961, this movie is sick, sick, sick. Let me count the ways:
1. Holly Golightly, played by Audrey Hepburn, is a prostitute. Her appeal is strictly based on "beauty" and occasional repartee. The prostitute part is glossed over and she is portrayed as a "party girl." She is looking for some nebulous security represented by the store Tiffany's.  She spends her time trolling for a rich husband. Are we supposed to believe this woman is attractive?
2. Her suitor, Paul Varjak, played by George Peppard, is a writer. He is also a prostitute, supported by a richer older woman played by Patricia Neal as though she were still in The Fountainhead.
In other words, heterosexuals are prostitutes who must get used to selling their souls in order to survive.  Holly and Paul both agree they would marry each other for money in a minute if they had any. "I need money and I'll do whatever it takes to get it," Holly vows.
3. Everything Holly does is designed to emasculate Paul. She wants him as a "friend" only. Sleeps in his arms. Whistles down a cab when he can't. Throws his "arrangement" in his face. She gives mixed signals and blows hot and cold. This became the typical neurotic behavior of modern women.
4. There is a sick subplot where we learn Holly is really from Texas and was married at age 14 to "Doc," a vet played by Buddy Ebson, a man easily 40. She claims the marriage was "annulled" but obviously they had a sexual relationship.
5. In order to make this crap palatable to heterosexuals, Holly and Paul have to overcome their moral lapses and find their way to each other. But Holly is a royal pain-in-the-ass to the end.  Even after Paul dumps his gigolo gig, finds a job and declares his love, Holly is set on going to Brazil with a rich heir she has met. When he dumps her, she is still intent on going to track "the 50 richest men in South America." She tells Paul that  she doesn't want "to belong to anyone" or be "put in a cage."
"I don't know who I am." She is a screwball to think marrying for money is not being put in cage.
7. This is the homosexual-feminist message of the movie. Get used to being a whore. Forget about marriage and family. Women "don't know who they are" have to "find themselves." This is the way the novel ends. But in order to sell the movie to unsuspecting goyim, they tack on a romantic finale. 110 minutes of homosexual dysfunction; five minutes of heterosexual romance. Paul tells her she is afraid of reality and walks away. She chases after him. Passionate kisses in the rain….  Not one minute of real life.
(left. fruitcake anyone?) 
CONCLUSION
Breakfast at Tiffany's is another reminder that Hollywood, and popular cult-ure in general, are devoted to Illuminati (satanist) social engineering. They have been subverting western Christian culture from the get-go; and the promotion of homosexuality, which is so obviously socially destructive, is a big part of it.
The reason my generation had to "search for our identity" is because our primary identity as men and women (protectors and providers, wives and mothers) was constantly being attacked and eroded by the Illuminati. [The institution of marriage was designed  to provide for women and children, so society can successfully procreate. Most gays want neither marriage nor children. Thus marriage is a distinctly heterosexual institution; it is being redefined as gay in order to destroy it. ]
In 2012, Breakfast at Tiffany's  was deemed "culturally, historically, or aesthetically significant" by the United States Library of Congress and selected for preservation in the National Film Registry.  Considered "iconic", it set an example for the 1960′s generation. Women wanted to be Holly Golightly just as a generation later they wanted to be Carrie Bradshaw. (Sex in the City was also written by a homosexual.)
Thanks to Illuminati feminist mind control, women exchanged socially secure and honored positions as wives and mothers to raise children alone in poverty. Truly a dog's breakfast.
Yes Virginia, we are satanically possessed.
First Comment from Dan: The iconography of a sick society. This is what influenced 60′s women. 
"Holly Golightly"  was based on Capote's own mother – Lillie Mae Faulk -an emotionally arrested nymphomaniac who spent a lot of time with men in hotels in New York City while Truman was a boy.  Missing from "Breakfast at Tiffany's" was mention of a five-year-old son locked up in his mom's hotel room while she was out with men.  Capote's real surname was Persons.  His real father's was Archie.  His mother gave him the Capote name through another marriage when Truman was eight.
Capote was the product of New Orleans lust between a teenage girl and a traveling salesman. Souring quickly on the marriage, she forced Truman's father to file divorce by having sex with other men.  When Truman was four, she moved to New York in search of wealthy men to support her fantasy of being a Southern Belle.  In reality she was merely a physically beautiful orphan from an average background.  Literary historian Andreas Brown wrote of her, "…a case of arrested development in the sense that she pursued adolescent values well into her thirties. She married the first fellow who came along who had any money."
Growing up in hotels with a loose woman as a role model of women, exposing him to a revolving door of amoral strangers is a well-known classic environmental cause of homosexuality.  She told Truman her job was "hostessing".  Though Capote never revealed that Holly was based on his mother, he said of Holly that she "was not precisely a call girl. She had no job, but accompanied expense-account men to the best restaurants and night clubs, with the understanding that her escort was obligated to give her some sort of gift, perhaps jewelry or a check … if she felt like it, she might take her escort home for the night."   Whatever the job description, she was very successful at it.  She became a socialite in Manhattan for her reputation with hostessing parties for the elite.
(This is Illuminati stuff – the right guests are quietly invited to the 'real' party in other rooms. These may have involved 'call boys' for homosexual politicians.  Capote knew a lot more about the 'secret society' of Manhattan elite than he wrote about.).
Capote never mentioned whether he was molested by any of his mother's men, though he was so effeminate by the time he reached puberty that his mother sent him off to a military school.   Meanwhile she changed her name to 'Nina'.
Capote's career as a writer succeeded early.  When he got the phone call to tell him Nina had committed suicide a few weeks before her 49th birthday with a bottle of Seconal, he said, "She didn't have to die.  I have money."
Lillie Mae Faulk – The Real Holly Golightly
http://www.thegloss.com/2012/07/10/beauty/holly-golightly-truman-capote-nina-421/
An interesting perspective on Sir James Savile.
The website Vigilant Citizen covers Pop Culture in depth, so (apart from recommending this appraisal of I Pet Goat) I'll leave it at that.
August 5, 2012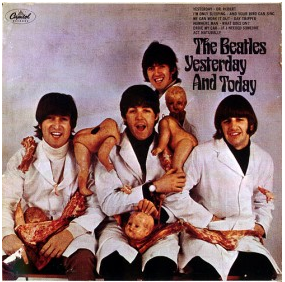 (The original cover of the 1966 "Yesterday and Today" album: Beatles got a good laugh from abortion.) 
The Beatles were an Illuminati creation.
Their songs were written for them and
handlers scripted their actions and words.
They demonstrate that popular culture is really mind control.

By David Richards
(henrymakow.com)   
In his book,  The Committee of 300, former MI6 officer John Coleman reveals the Beatles were a psychological operation run by the Tavistock Institute for Human Relations.
The Beatles were created to advance the formation of a corrupted Brave New World-style slave populace. This agenda kicked in big time during the 60s, with rock groups acting as social agitators.
Free love, drugs and rock music were promoted. To replace Christianity, the Illuminati introduced the New Age Movement: spiritual doctrines that do not require the individual to follow the Moral Law. (See this interview with John Coleman.)
The Beatles were presented as anti-establishment but received endless mainstream media attention. In 1965, they received MBEs (Members of the Most Excellent Order of the British Empire) from the Queen.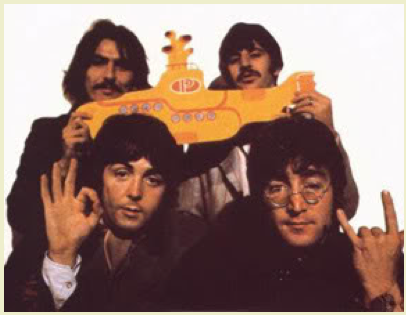 OCCULT REFERENCES
The occult references in the Beatles work prove they were Illuminati puppets.
A promotional photograph for the Yellow Submarine album shows John Lennon flashing the devil horns. Paul McCartney makes a '666′/EYE OF HORUS hand sign.
The front cover of the With The Beatles album shows their faces half in shadow. This is the 'One Eye of Horus' that is epidemic in the music industry today. The black/ white duality is the Masonic doctrine to balance good and evil.
A Beatles compilation was released in 1988 titled 'Past Masters'. Past Master is a Masonic term used to describe the former Worshipful Master of a Masonic Lodge. The album contains exactly 33 songs!
In the film, 'The Magical Mystery Tour,' the Beatles use a magic wand to cast spells on unsuspecting members of the public. Magic wands are made from holly trees (hence Holly-wood) and are the instrument of the occult magician who has his audience (the populace) in a trance. The film features several Masonic handshakes.
The songs also feature occult lyrics. The song 'Lucy in the Sky with Diamonds' refers to Lucifer in the sky with "diamonds" (aka "stars", the Dogstar Sirius representing Lucifer).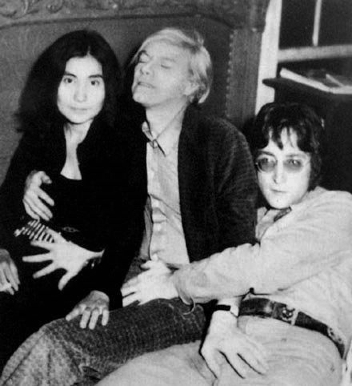 (left. rare photo of John, Yoko & Andy Warhol having a gay time)
The track 'Across The Universe' is about demon possession. John Lennon sings 'gai guru deva' (all hail to the devas). In Theosophy, a deva is a spiritual entity, i.e. demon, which exists behind the scenes manipulating and directing human behavior. Luciferians believe they are possessed by these entities when they rape, torture and kill innocent victims.
Four working class young men could not have written these songs! The Beatles were originally a hack rock 'n' roll cover band playing in the red light district in Hamburg. We are supposed to believe that only a few years later they composed songs with deep occult meanings!
THE SCRIPT
The Beatles behavior was scripted by handlers who knew the agenda behind the group.
The drug agenda was pushed in the infamous interview Paul McCartney gave with the BBC in 1966, when he 'admitted' to taking acid four times.
The interview was intended to cause controversy, which it did, and encourage young people to try LSD. If the BBC were really against drug use, they wouldn't have broadcast the interview to millions of people.
Once we realize that the Beatles were supposed to turn young people against Christianity, their anti-Christian sound bites look scripted.
In 1963 Paul said, "Christianity doesn't fit in with my life." In 1966 John was more forthcoming, telling Newsweek, "Christianity will go, it will vanish and shrink. I needn't argue about that. I'm right and will be proved right."
In the 60s, the big record labels had total control over artists. Do we believe the Beatles could have spouted anti-Christian sentiment in opposition to their label EMI?
Their photo shoots were also clearly designed by Illuminati handlers.
A shocking example is the alternate cover to the 'Yesterday/ Today' album that pictures the Beatles covered in the body parts of dead babies. This was a sick laugh at abortion, the inevitable result of the free love agenda the Beatles were promoting.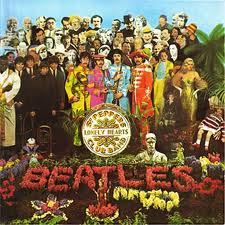 The front cover of the Sgt. Pepper album features the Beatles 'heroes.' They include a whole host of Illuminati stooges: Aldous Huxley, Karl Marx, Aleister Crowley, Mahatma Ghandi, HG Wells and George Bernard Shaw among others. Tellingly, it includes cutouts of the Beatles from their early days. Is this an admission that they also served the Illuminati?
CONCLUSION
I bought all the Beatles albums when I was a teenager. I loved the music but felt something was wrong. The songs were melodically perfect but lacked emotional resonance. Now I know why: the group was an Illuminati creation.
After learning this information about the band, I listened to the music again. Now that I can hear the malevolent agenda behind the songs; they're ruined for me.
The Beatles made the West more degraded, divided and weak.
Journalist David Noebel summarized it well in 1982, when he judged the impact John Lennon had on music.
"The present rock 'n' roll scene is one giant, multi-media portrait of degradation-a sleazy world of immorality, venereal disease, anarchy, nihilism, cocaine, heroin, marijuana, death, Satanism, perversion and orgies."
In the style of true Satanists, the Beatles sold this sickness as "Love," a reminder that the world is controlled by a satanic cult, the Illuminati, that hates God, and hates you and I.
—————–
David Richards is a 24-year-old British citizen who teaches English in Mongolia.
MAKOW COMMENT: We are unconscious of how popular music is used  to control our feelings and actions. Most songs make a religion out of "love" and make us seek a non-existent ideal mate instead of God, obedience to whom is the principle of our self-development, i.e. religion.
Related:
Bankers Behind the Counter Culture
Tavistock Institute – Best kept Secret in America
David Livingstone - Age of Aquarius – Sex Drugs & Rock & Roll
John Lennon's Born-Again Christian Phase
First Comment by Al Thompson:
One of the most destructive forces that was unleashed upon western civilization by the Beatles was the promotion the pagan Hindu religion.  This was primarily done by the introducing of Transendental Meditation and the practice of yoga into the mainstream public.  Of course, this is actually called for in the Protocols of Zion by the open worship of Vishnu.
"12. All our newspapers will be of all possible complexions – aristocratic, republican, revolutionary, even anarchical – for so long, of course, as the constitution exists …. Like the Indian idol "Vishnu" they will have a hundred hands, and every one of them will have a finger on any one of the public opinions as required. When a pulse quickens these hands will lead opinion in the direction of our aims, for an excited patient loses all power of judgment and easily yields to suggestion. Those fools who will think they are repeating the opinion of a newspaper of their own camp will be repeating our opinion or any opinion that seems desirable for us. In the vain belief that they are following the organ of their party they will, in fact, follow the flag which we hang out for them." (Protocols of Zion)
7. Our kingdom will be an apologia of the divinity Vishnu, in whom is found its personification – in our hundred hands will be, one in each, the springs of the machinery of social life. We shall see everything without the aid of official police which, in that scope of its rights which we elaborated for the use of the GOYIM, hinders governments from seeing. In our programs ONE-THIRD OF OUR SUBJECTS WILL KEEP THE REST UNDER OBSERVATION from a sense of duty, on the principle of volunteer service to the State. It will then be no disgrace to be a spy and informer, but a merit: unfounded denunciations, however, will be cruelly punished that there may be development of abuses of this right."  (Protocols of Zion)
So it is obvious to me that the so-called "Jews" have promoted the pagan beliefs of Hinduism.  One might ask: What does a Jew have to do with a Hindu?  I'm not really sure, but it seems to me that if one is a pagan, they will use anything evil to promote their agenda.  The definition of a Jew can mean almost anything just as the definition of a Christian.  Here, the so-called Protocols of Zion are intrinsically Hindu in nature and of course evil is at the core of the writing.
"Later the Beatles lead the way for many Americans into pagan religion with visits to Guru Maharishi Mahesh Yogi."  The Beatles did indeed lead the way to promoting the gurus and the Hindu religion was thrust upon western civilization through the music of the Beatles and other various groups.  And of course, every time I point this out I get slammed for it.  So much for religious tolerance.  Today, the practice of yoga is pervasive throughout society and everyone that I know who practices it becomes completely unglued and unreasonable if I criticize it.  The problem is that the practice unites a person with some kind of "divine being" which is not God the creator, but some kind of "consciousness" by which the mind is emptied.  There's even so-called "Christian" churches that have yoga classes.
Music has an extraordinary way of twisting the mind.  I used to listen to George Harrison's Hare Krishna song over and over again.  I like the song but wondered about its meaning and intent.  I now realize that it was most certainly a plan to turn the young people over to paganism.  People who are critical of Zionists should be asking the question as to why Hinduism was promoted in the writing of the Protocols of Zion.  What do Jews have in common with Hindus?  Maybe the made up the story about Christ too.  Or, the Christ represented by mainstream "Christians" is really Vishnu.  There are all kinds of possibilities.  If it wasn't for some early Christian writings that I read over the last years, I would have completely given up on Christianity.  This is why I try to stay away from governments and religions as they are too inconsistent in their doctrines to be of any value.
As a former musician, I have observed that music has the frightening power to get people to do things they wouldn't normally do.  It is almost like a drug.  What is interesting is that there is no warning in any of the scriptures about any kind of music.  It's probably like anything else: it's not offensive in and of itself, but it will be the content that will determine whether it is good or bad.  In the case of the Beatles, it was all crap.
http://verydumbgovernment.blogspot.com/2012/02/stop-yoga.html

Comments for "The Beatles — Illuminati Mind Controllers "
---
---
---
---
---
---
---
---
---
---
---
---
---
---
---
---