With the media gripped by accusatory speculation regarding the identity of the source behind the Wikileaks leak of hacked Podesta and DNC emails, much of it focused on Russia, a new theory has emerged from Craig Murray, the former British ambassador to Uzbekistan, who tells Sputnik (a Russian media outlet) that the source of the leaks are not Russian hackers but a Washington insider.
"The source of these emails and leaks has nothing to do with Russia at all. I discovered what the source was when I attended the Sam Adam's whistleblower award in Washington. The source of these emails comes from within official circles in Washington DC. You should look to Washington not to Moscow."
Asked about whether or not WikiLeaks have ever published information at the behest of Moscow, Murray said that "WikiLeaks has never published any material received from the Russian government or from any proxy of the Russian government. It's simply a completely untrue claim designed to divert attention from the content of the material."
While blasted by Washington, first by Republicans several years ago, and most recently by Democrats, the WikiLeaks revelations have often been hailed as a champion of accountability.
"I think whistleblowers have become extremely important in the West because the propaganda model — as Chomsky puts it — has been reinforced to the extent that people don't get any true information out of the media at all. It's worth saying that Julian Assange and WikiLeaks are publishers; they publish what whistleblowers leak to them," Mr. Murrary told Sputnik.
Yet, whistleblowers in the US continue to be subject to lengthy prison sentences. A key example is Chelsea Manning, who was sentenced on August 21, 2013 to a thirty five year sentence for providing WikiLeaks with sensitive military and diplomatic documents highlighting, among other things, US military conduct in Iraq. Murray also mentions the case of John Kiriakou, a former investigator of international terrorism with the CIA who turned whistleblower.
"The people who did the torture have suffered no comeback at all," adds Mr. Murray.
Taking a step back and discussing the risk of geopolitical escalation between Russia and the US, Murray told Sputnik that "there is no chance whatsoever that Russia is going to ever attack the United States, that simply isn't going to happen."
"Just as Russia is not going to attack the United Kingdom. There never has been a chance that Russia would ever attack either of these two countries. But of course the narrative is all to do with power and funneling huge amounts of American taxpayer money into the defense industry and the security industry and these people are both from the class that benefits."
It's an extremely dangerous game, says Mr. Murray, and it feeds into a foreign policy that is completely mad.
"In Syria — and I should say I'm no fan of the Assad regime at all — but the idea that backing assorted groups of jihadists to tear the country apart is a better solution is crazy and it's especially crazy when we've already messed up Iraq, Afghanistan and now we're doing exactly the same thing again and you can see it doesn't work, it only works in terms of promoting continued instability and continued spending for the military and the security services."
Finally, Murray also believes that the public can't get clear analysis of these issues from mainstream media, because they are part of the same money/power nexus.
If you would like to listen to some evil Russian propaganda, here is my new interview on Sputnik News.

Your browser does not support the audio element.The BBC World Service was founded by the Foreign and Commonwealth Office and funded by them directly for six decades, until a cosmetic change last year. Its specific purpose is to spread British values and the British view of the world abroad. It specifically, on its dozens of different national services, gives an opportunity to dissident voices who cannot get on their mainstream media. The Americans spend hundreds of millions annually on outfits like RFE/RL to do the same. Yet when the Russians do precisely the same thing on a much smaller scale, for example by enabling you to listen to me, this is portrayed as evil propaganda.Fortunately we have the Henry Jackson Society to defend you from it. The Henry Jackson Society, supported by Liam Fox, Jim Murphy and pretty well every other right wing enthusiast you can name, is of course a great believer in free markets. And its sense of the market has detected that its old product of a constant stream of Islamophobia is becoming dated, and currently buyers want Russophobia. Whatever your phobia, the Henry Jackson Society will have some to sell you, so here we have their new Manual of Russophobia.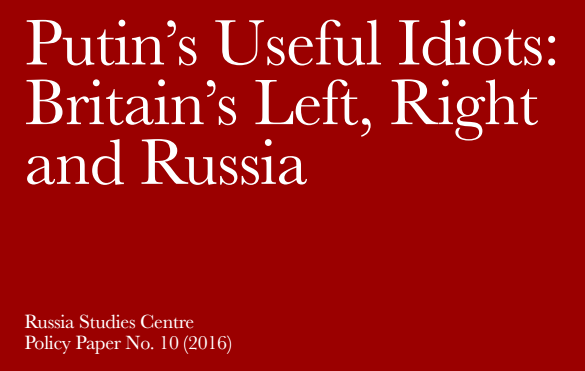 Written by Dr Andrew Foxall, Director of the Henry Jackson Society's so-called Centre for Russian Studies, has by brilliant research exposed the fact that Jeremy Corbyn, Seumas Milne, Tommy Sheridan and Colin Fox have all appeared on Russia Today television. And that a tiny group of left wingers I have never heard of once met in a pub with some Russian nationalists from the Ukraine. Funniest of all is the contention that CND is funded by the Russians.
Given that the Henry Jackson Society is, and always has been, financed by CIA money laundered through American New World Order supporting private foundations, this is rather amusing. This pathetically thin hate manual is now on the desk of every Conservative and New Labour Progress Group MP.
It is of course no coincidence that the overt security service operations operate in close co-ordination with the supposedly covert ones. The same day that the Henry Jackson Society paper was released, the head of MI5 gave an interview to the Guardian about the Russian threat. The Russians are not just coming, they are here! You can't see them because they are inside your laptop, where the Russian government apparently want to steal all your secrets. Our security services don't like the competition. That is their job.
Apparently the Russians are out to steal Britain's industrial secrets, like how the Nissan Qasghqai is built or how the Chinese and French build Hinkley Point. I hope they don't get the blueprints of the new Dyson. Andrew Parker has of course to work hard as MI5 to find a new enemy. While he has yet again repeated the ludicrous claim that there are 3,000 Islamic terrorists in the UK, he must realise people will query the low productivity of these terrorists when it comes to killing anybody.
Russophobia has of course peaked in the US with Clinton's claims that it is Russia which is revealing her gross corruption and all her opponents are servants of Russia. She wants to face down Russia in Syria, in order to give it to the Islamic terrorists of whom Andrew Parker worries we have 3,000 in the UK. Clinton's claims of Russian involvement in hacking her entourage are totally unfounded, hence the lack of evidence. I am however surprised there have been no serious attempts to fabricate some.
Who benefits from this ratcheting up of anti-Russian rhetoric to hotter than cold war levels? Why the armaments and security industries, of course. Expect more donations to politicians and their foundations, and more pesky corruption investigations to be dropped by prosecuting authorities.
The truth is that Russia is not our enemy. There is no chance that Russia will attack the UK or US. It has never happened and it never will. Nor is it remotely likely that Russia will attack any EU member state. The only thing that can make such a contingency even a 0.1% possibility, is the continuing gross anti-Russian rhetoric and propaganda and continued forward stationing of NATO assets. History from WWI to the Gulf shows that military build-up can in itself cause conflict.
The danger to the world is us.